Purported Taliban spokesman Qari Yusof Ahmadi said militants might kill one or more captives if Taliban prisoners were not freed by noon on July 30 (0730 GMT).
No Contacts Sunday
Ahmadi said the government already has a list of 23 rebel prisoners the Taliban wants freed. The group of South Koreans, which includes 16 women, was kidnapped some 10 days ago from a bus on a highway in the province of Ghazni, south of Kabul.
Afghan officials earlier said they remain hopeful of securing their release.
"I tell you that our talks have not been halted, we have sent tribal leaders and elders to talk with the Taliban, the negotiations with them are continuing, and we hope that through clerics and Afghan [politicians] the issue will be solved," said Abdolvahid Mojadeddi, a senior member of the negotiating team.
However, Mojadeddi told RFE/RL's Radio Free Afghanistan that were no contacts today with the actual kidnappers.
The kidnappers killed one South Korean hostage last week.
Growing Concerns For Hostages' Health
The South Koreans are reportedly Christian volunteers who were on a humanitarian mission in Afghanistan to deliver aid and medical care. Most of them are women and they are reportedly being held in small groups in different locations.
Reports say some of the hostages are in poor health. It is not clear whether the medicine that has been sent for them was delivered.
The Taliban had warned that they will kill the rest of the hostages, but several deadlines have passed without the militants carrying out their threat.
The kidnappers have demanded that eight Taliban prisoners be freed in return for the aid workers' release.
Karzai Says Kidnapping 'Un-Islamic'
They are also demanding that Seoul withdraw its 200 military personnel serving with U.S.-led coalition forces in Afghanistan.
Meanwhile, Baek Jong-chun, a South Korean special envoy, held talks with Afghan President Hamid Karzai to try to speed up the hostages' release.
Karzai's office quoted Baek as saying that Seoul is to "respect any position that the Afghan government takes for solving the hostage case."
Karzai has said the kidnapping is shameful and that abducting women in particular is against Islam.
The Afghan government was criticized when it released five Taliban prisoners in March to gain the freedom of an Italian hostage. Karzai vowed afterwards not to swap prisoners for hostages.
The Taliban are also holding one German citizen and four of Afghans. Another German seized alongside them was later found dead.
The abduction of the foreigners and Afghans comes amid a surge in violence in the country.
(with material from agency reports)

U.S.-Afghan Relations
STRATEGIC PARTNERS:
Since leading the military campaign to oust the fundamentalist and largely unrecognized Taliban regime from power in 2001, U.S. officials have pledged a long-term interest in Afghan stability.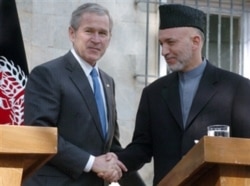 READ
'Strategic Partnership' Seen As Move Toward De Facto Rights For U.S. Bases
Analyst Discusses Increased U.S. Effort
Bush, Karzai Agree On Strategy Against Terror
Former CIA Analyst Says West Misunderstands Al-Qaeda
For regular news and analysis on Afghanistan by e-mail, subscribe to "RFE/RL Afghanistan Report."