OImert Says Increased Military Aid To Israel 'Significant'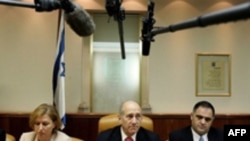 Olmert (middle) during today's cabinet meeting (AFP) July 29, 2007 -- Israeli Prime Minister Ehud Olmert has welcomed a 25 percent increase in U.S. military aid to Israel.
Olmert told today's weekly cabinet meeting that it is "an important and significant" boost which will maintain Israel's qualitative edge over its enemies.
The U.S. military aid to Israel is set to increase from a current $2.4 billion to $3 billion a year.
The United States is also planning to sell $20 billion worth of modern weapons to Saudi Arabia and other Arab Persian Gulf states to counter what Washington sees as a "more aggressive Iran."
Olmert has posed no objections to the deal, saying Iran was the common enemy.
(compiled from agency reports)