Bush, in a speech at the U.S. Naval War College in the state of Rhode Island, said the goal of the U.S. mission in Iraq is not to eliminate attacks, but to create an Iraqi democracy that can continue to function despite violence -- like, he said, Israel does.
Bush cited indications of progress in Iraq, saying that despite an upward trend of sectarian attacks in May.
"Sectarian murders are now down substantially from what they were in January," he said. "We're finding arms caches at more than three times the rate of a year ago. Although the enemy continues to carry out sensational attacks, the number of suicide attacks has been down in May and June."
Bush also urged Americans to give more time for the current U.S. troop "surge" in Iraq to work, saying the U.S. military was still at the "beginning stage" of its offensive, as the last of the 30,000 extra troops he ordered into the country have arrived only this month.
In Iraq, five U.S. soldiers were killed and seven wounded in an attack on their combat patrol in southern Baghdad on June 28. The attack began with a roadside bomb and continued with small-arms fire and rocket-propelled grenades.
The deaths brought to 99 the number of U.S. troops who have died in Iraq this month.
(compiled from agency reports)
Iraqi Insurgent Media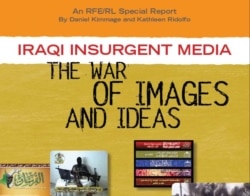 GETTING THE MESSAGE OUT. RFE/RL analysts Daniel Kimmage and Kathleen Ridolfo have produced a book-length study on the media efforts of the insurgency in Iraq and on how global jihadists are exploiting those efforts to spread their destructive message around the world....(more)
DOWNLOAD
(pdf format):
Part One Part Two Part Three Part Four Part Five



THE COMPLETE STORY: RFE/RL's complete coverage of events in Iraq and that country's ongoing transition.