U.S Report Says Iraq Lags On Reconstruction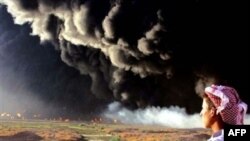 Much of Iraq's oil infrastructure is still not rebuilt (file photo) (AFP) July 30, 2007-- A U.S. government reports says Iraq's government has failed to take responsibility for reconstruction projects.
The special report, by a U.S. inspector-general, looked at how $44 billion in U.S. funds had been spent in Iraq since 2003.
The report said the Iraqi government had failed to take control of or maintain many U.S.-funded infrastructure projects.
It also said U.S. money for Iraq reconstruction is almost used up, and that the Iraqi government now has the responsibility for financing the country's recovery.
In other news, Britain's Oxfam charity says hunger and disease are spreading in Iraq.
The charity said in a report released today that 28 percent of Iraqi children are malnourished, 15 percent of Iraqis regularly cannot afford enough to eat and 70 percent lack clean drinking water.
The report said 2 million Iraqis have been forced to flee the country since 2003, and at least as many have been displaced within Iraq.
Oxfam pulled out of Iraq along with most other aid agencies because of deteriorating security in 2003.
(Reuters, AP)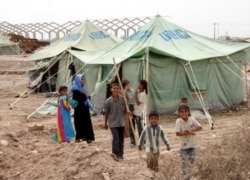 Children at an Iraqi camp for displaced people outside Al-Nasiriyah in May 2006
REFUGEES FLEE SECTARIAN VIOLENCE The UN High Commissioner for Refugees has estimated that over 2 million Iraqis have fled sectarian violence for Jordan, Syria and other neighboring states, while an equal number may be internally displaced within Iraq..... (more)
RELATED ARTICLES
Neighboring States Call For Help With Refugees
Refugees Under Pressure in Syria, Jordan, Lebanon
Displacements Upset Religious, Ethnic Communities
Official Says Refugees To Get New Passports Soon