He vowed to pay the "most serious attention" to the treatment of the Russian-speaking minority during his planned September visit to the Baltic countries.
Van der Linden made the comments today during a visit to the Russian city of Cheboksary.
Russia has frequently called attention to the Estonian and Latvian governments' treatment of their Russian minorities, where they make up some 25 and 30 percent of the population, respectively.
(Interfax)
Rising Russian Nationalism
Rising Russian Nationalism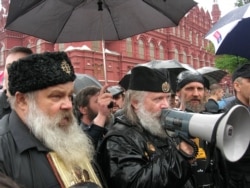 Orthodox believers and nationalists heckling a gay-rights rally in Moscow in May 2006 (RFE/RL)
A THREAT TO CIVIL, RELIGIOUS LIBERTIES: Several leading experts told a briefing hosted by RFE/RL and the U.S. Commission on International Religious Freedom that several mounting trends in Russia are posing a growing threat to human rights, especially for members of the country's ethnic and religious minorities.
LISTEN
Listen to the entire briefing (about 90 minutes):

Real Audio
Windows Media
RELATED ARTICLES
Why Putin Is Going To The Vatican
Bishop Assails Russian Orthodox Church

A thematic webpage devoted to issues of religious tolerance in RFE/RL's broadcast region and around the globe.