Legislators told a Baghdad press conference that the six ministers of the Accordance Front will submit their resignations today, after they suspended their participation in government last week.
The Accordance Front had demanded a greater say in security matters, and had accused al-Maliki's Shi'ite-led coalition of failing to consult it on key issues.
"It has been obvious that the government is sticking to its arrogant stand and is still insisting on closing all the doors on any reforms necessary for saving Iraq," party spokesman Muhannad al-Issawi said today at a news conference in Baghdad.

Deputy Prime Minister Barham Salih today told the Reuters news agency that the bloc's withdrawal "is probably the most serious political crisis we have faced since the passage of the constitution."
(Reuters, AP)

Searching For A Way Forward
Searching For A Way Forward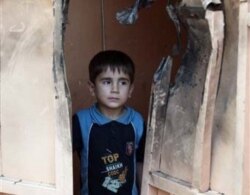 A boy looks out from his Baghdad home (AFP)
LOOKING BEYOND AL-MALIKI: RFE/RL Iraq analyst Kathleen Ridolfo led an RFE/RL briefing about the changing political landscape in Iraq, focusing on efforts to gain the upper hand in the event that the government of Prime Minister Nuri al-Maliki falls.
LISTEN
Listen to the entire briefing (about 70 minutes):

Real Audio
Windows Media
RELATED ARTICLES
Opposition Appears Set On Bringing Down Al-Maliki
Former Premier Pushing New Plan For Reconciliation
Al-Sadr Prepares For Post-Coalition Era
Sunni Ultimatum Rocks Al-Maliki's Position


THE COMPLETE STORY: RFE/RL's complete coverage of events in Iraq and that country's ongoing transition.