RFE/RL:
Can you tell us about the efforts that are being undertaken to form a moderates' front [in the parliament]?
Mahmud Uthman:
There are efforts to bring together four parties. Already they have signed some documents [towards this, but] it's not declared yet. They call them moderates because there are other [coalitions] like Sadrists [supporters of radical cleric Muqtada al-Sadr], like some other parts of the Arab Sunni list and so on.
These four parties, which are Al-Da'wah Party, SCIRI [now SIIC, the Supreme Islamic Iraqi Council], KDP [Kurdistan Democratic Party] and PUK [Patriotic Union of Kurdistan], they have been friends for a long time. They were in the opposition together, so they have a lot of things in common, these people.
They are trying to bring in the Iraqi Islamic Party so there will be at least five [parties], and it will [then] include all the elements of Iraqi society -- the Arab Sunnis, the Arab Shi'ites, the Kurds, and everybody -- and then they will declare [the formation of the front]. So, I don't know whether the efforts [to include] the Islamic Party will succeed or not. They are now in the process of [trying to elicit] others to join the front.
RFE/RL:
The Iraqi Islamic Party said two days ago that they have conditions that must be met before they would consider joining the front.
Uthman:
Yes, there are some conditions. They say they have been marginalized by the government. They are not part of the decision-making [process] and they think they are marginalized and they think there is no balance in the courts -- the high courts of the state -- they mean between Sunnis and Shi'a. So they think they should be given more attention, the Arab Sunni side should have [a greater] role in the government, and they shouldn't be marginalized.
That means they [should] say which political formula, that means them joining this front, should go [hand in hand] with an executive formula which guarantees that they have more rights in the government.
They have these conditions and they have already presented a memorandum to the prime minister [Nuri al-Maliki]. They have [presented] a memorandum to the Americans [and] to the parliament. So, those things are discussed, two parallel lines -- one political, one executive. We don't know how things will go but we hope there will be some success.
RFE/RL:
There were reports in the Iraqi newspapers on July 21 that the cabinet might be changed and maybe there will be a Sunni Arab president. Is there any truth to these reports?
Uthman:
There will be a change in the cabinet, but that is only to fill the vacancies. There are now seven vacancies in the cabinet. Six ministries are vacant because the Sadrists withdrew; a seventh position is vacant because an Iraqi deputy minister resigned. Also there is [an eighth] vacant because of the controversy over the Iraqi culture minister [As'ad al-Hashimi, who is accused in a 2005 assassination]....So, there should be eight or seven ministers appointed to fill these vacancies.
This is the only thing which is going on now. But there is no talk of changing the whole cabinet. If those talks on the political and executive changes go [ahead], then there may be a change of a bigger [nature].
RFE/RL:
But there's no talk of changing the president?
Uthman:
No, there's no talk. Some people...have been saying that it's better to have a Sunni Arab president because the foreign minister is Kurdish and the president is Kurdish, so one of them [in the Sunni Arab view] should be [a Sunni Arab]. But now nobody talks about this, I mean nobody has put any motion [forward] either in the parliament or in the cabinet.
RFE/RL:
The Shi'a and the Kurds are hoping that the Islamic Party will join their moderates' front but it doesn't appear that the Islamic Party is prepared to leave the Iraqi Accordance Front.
Uthman:
No, they will not leave. Each [party] will not leave its main bloc. There is a cooperation between these parties to create a bigger bloc in parliament to cooperate with each other. But it doesn't mean that any of these parties will leave their original blocs, parliamentarian blocs. They will stay there. But they have the right, according to the blocs' program, to make coalitions in cooperation with other parties within the political process.
RFE/RL:
So, the Islamic Party will remain with the Accordance Front, but they may join the moderates' front?
Uthman:
Yes.
RFE/RL:
Do you believe that the other parties to the Accordance Front will join the moderates' front?
Uthman:
I really don't know, but they may because the moderates' front or what they call the moderates' front -- there is no [official] name for it yet -- it is open to other parties [and] the other political parties could join [as well]. [The front] is not closed [to other parties].
RFE/RL:
Iyad Allawi has been working to form a new front for secularists. Will he join this front or pursue his own front?
Uthman:
Well, Iyad Allawi says there is no secularism [now] and [he believes] everything is based on the sects [religious or ethnic]. But still he is the head of one bloc and he has a party also. It's up to him. As far as I heard from his party, they don't mind if he accepts those principles [of the moderates' front]. He could come into negotiations and join but I think he has no intention to join, based on his previous [public statements].

RFE/RL:
KDP head and Kurdish regional President Mas'ud Barzani will travel to Baghdad this week and there are reports that the political parties may meet to discuss the formal establishment of the moderates' front....

Uthman:
[Barzani] will be in Baghdad on Tuesday [July 24]...and I think when he comes, we will know a few things about the general issues and about this front also because he is the leader of the Kurdistan region and he is the leader of the [Kurdistan] Democratic Party. So when there is a summit between the political leaders, he will be there and he will join them.
Searching For A Way Forward
Searching For A Way Forward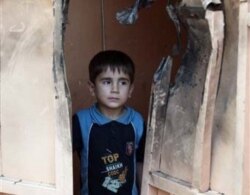 A boy looks out from his Baghdad home (AFP)
LOOKING BEYOND AL-MALIKI: RFE/RL Iraq analyst Kathleen Ridolfo led an RFE/RL briefing about the changing political landscape in Iraq, focusing on efforts to gain the upper hand in the event that the government of Prime Minister Nuri al-Maliki falls.
LISTEN
Listen to the entire briefing (about 70 minutes):

Real Audio
Windows Media
RELATED ARTICLES
Opposition Appears Set On Bringing Down Al-Maliki
Former Premier Pushing New Plan For Reconciliation
Al-Sadr Prepares For Post-Coalition Era
Sunni Ultimatum Rocks Al-Maliki's Position


THE COMPLETE STORY: RFE/RL's complete coverage of events in Iraq and that country's ongoing transition.