His remarks come one day after Gazprom, Russia's state-controlled gas monopoly, threatened to reduce deliveries to Belarus by 45 percent unless Minsk settles its debt by August 3.
Gazprom in January more than doubled the price it charges Belarus for natural-gas deliveries. Belarus has asked Gazprom to delay its gas payments, but the two sides have been unable to reach an agreement.
The European Commission on August 1 urged the two nations to swiftly resolve their dispute.
Vitali Silitski, the director of the Belarusian Institute for Strategic Studies, today told RFE/RL that the delayed payment does not indicate an economic crisis on the Belarusian side, but is instead the result of Minsk's political maneuvering.
(Compiled from agency reports)

Politics In Belarus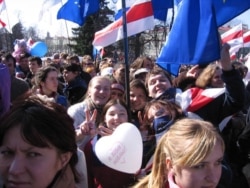 Demonstrators in Minsk on March 25 (RFE/RL)

WHAT HAPPENED? Belarus scholar Vitali Silitski and RFE/RL Belarus analyst Jan Maksymiuk took a look a how Belarus has changed since mass demonstrations in Minsk in March 2006 failed to produce meaningful change in that country.
LISTEN
Listen to the entire briefing (about 70 minutes):

Real Audio
Windows Media
RELATED ARTICLES
Has Regime Adopted New Tactics Toward Opposition?
Lukashenka Is Firmly In His Saddle, Despite A Bumpier Road
Why Can't Belarus's Opposition Just Get Along?
SUBSCRIBE
For weekly news and analysis on Belarus, Ukraine, and Moldova by e-mail,
subscribe to "RFE/RL Belarus, Ukraine, And Moldova Report."