Under a contract signed on December 31, 2006, between the Belarusian government and the Russian state-controlled gas monopoly, Belarus has to pay $100 per 1,000 cubic meters of Russian gas in 2007, compared with $46.68 during the previous 2 1/2 years.
Gazprom allowed Belarus to pay 55 percent of the contract price in the first six months of 2007. Minsk promised to pay off the accumulated gas debt by July 23 but failed to do so. Belarus's debt to Gazprom now stands at $456 million.
In the past few weeks, Belarus held a series of talks with Russian government officials about the gas-debt repayment both in Moscow in Minsk, but apparently failed to reach a satisfying agreement.
Reassuring Nervous European Customers
Meanwhile, Gazprom spokesman Sergei Kupriyanov assured Gazprom's European customers that they do not have to be worried about the forthcoming reduction of gas pressure in Belarusian pipelines.
"It is the beginning of another stage of Russia's policy of pushing
Lukashenka into a corner. Now Russia and the Kremlin are using
Lukashenka as both an object and a tool for the economic subjugation of
Belarus."
"The daily delivery of gas to Belarus will be reduced approximately by 21 million cubic meters from 10 a.m. on August 3," he said. "That is about 45 percent of Belarus's daily consumption. At the same time, the volume of gas transit across Belarusian territory for our customers in third countries will remain the same."
Gazprom pumps one-fifth of its gas exports to Europe via Belarus to customers in Poland, Lithuania, and Germany.
The European Commission, through its spokesman Martin Selmayr, showed immediate concern for this new gas spat between Belarus and Russia.
"We take these developments very seriously and we believe [that] both sides [will be able] to resolve the dispute without any delay and to create conditions for the timely resumption of the deliveries," Selmayr said on August 1.
Latest Battle In Gas War
This is now the third time that Minsk and Moscow have been at loggerheads over the payment for Russian gas.
In 2004, Gazprom refused for five months to sign an annual gas contract with Belarus, pressuring Minsk to accept a higher price and sell Beltranshaz, Belarus's gas-pipeline operator, on favorable conditions.
At that time, Belarusian President Alyaksandr Lukashenka went as far as to accuse his Russian counterpart, Vladimir Putin, of practicing economic "terrorism" on Belarus.
In 2004, Belarus agreed to pay a higher price for Russian gas but retained Beltranshaz intact.
However, much harder times came at the end of 2006, when Minsk was forced by Moscow into accepting a deal under which Gazprom more than doubled the gas price for Belarus in 2007 and finally received a 50 percent stake in Beltranshaz for $2.5 billion.
Moreover, the deal provided for a gradual increase of gas prices for Belarus to the European market level by 2011. In early 2007, Russia also imposed a sizable duty on crude-oil exports to Belarus, thus painfully cutting into Minsk's lucrative business of reexporting refined Russian oil to Europe.
Rock And A Hard Place
In direct response to these Russian moves, Lukashenka made a number of politically incoherent statements in January, which suggested that Belarus might open its economy to Western investors and abandon its plans of close integration with Russia. But in subsequent months, Lukashenka toned down the anti-Russian rhetoric and forgot about his overtures to the EU, which met them rather coldly and disbelievingly.
Vintsuk Vyachorka, the leader of the opposition Belarusian Popular Front, thinks that Gazprom's threat to reduce gas supplies to Belarus is a logical step in Russia's drive to absorb Belarus economically.
"It is the beginning of another stage of Russia's policy of pushing Lukashenka into a corner. Now Russia and the Kremlin are using Lukashenka as both an object and a tool for the economic subjugation of Belarus," Vyachorka says. "They are following this course pragmatically. It is apparent that, in this situation, the only way out for Belarus would be to urgently meet all conditions of the European Union and take advantage of European programs of energy security, investments, technologies, etc."
Anatol Lyabedzka, the leader of the opposition United Civic Party, believes that in refusing to pay the gas debt, Lukashenka is trying to gain time and see who will be in control in Moscow after parliamentary elections in December and a presidential election next year.
"I think [the threat] is a direct reaction to the fact that Lukashenka does not want to have straightforward dialogue [with Putin]," he says. "He wants to play for time, he's waiting for the start of an election campaign in Russia -- in order to establish contacts with a new master in the Kremlin. But it is being suggested to him that, notwithstanding the start of an election campaign, there will also be time for pressuring official Minsk."
Few Options
Russian political expert Mark Urnov is of the same opinion. Urnov told RFE/RL's Belarus Service that despite's Lukashenka great popularity in Russia, particularly among older people, he is unlikely to stir the Russian voters' sentiments to the extent that the Kremlin could write off Belarus's gas debt.
"I don't think that Russia would now back down [on Belarus's gas debt] -- because the elections [in Russia] are beginning on a wave of imperial feelings," Urnov says. "It would be very hard to convince the public that it is necessary to forgive [Lukashenka] everything, while he keeps on refusing to pay."
It seems unlikely that Lukashenka, cornered by Moscow for the second time in seven months, will once again start making overtures to the EU, let alone meeting some EU demands for democratization, in order to get some help from Brussels.
It should rather be expected that Lukashenka will once again launch a media campaign accusing the Russian leadership of ill-will in dealings with its closest and truest ally. If such a campaign proves fruitless, Belarus will pay the debt.
Belarus's foreign-currency reserves reportedly stand at $3 billion. So there is no danger of any immediate default or economic collapse for Belarus. But the situation may become tough for Lukashenka in the medium term, when Minsk will gradually have to pay much more for Russian gas than it does now.
(RFE/RL's Belarus Service contributed to this report.)
An OPEC For Natural Gas?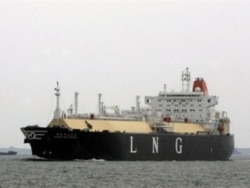 A tanker carries liquified natural gas to markets in Asia (AFP)

COMING TOGETHER? PFC energy analyst Nikos Tsafos and RFE/RL energy analyst Roman Kupchinsky discussed with an RFE/RL briefing what the likelihood is of a natural-gas-producers consortium being formed and what such an organization might look like.
LISTEN
Listen to the entire briefing (about 70 minutes):

Real Audio
Windows Media
RELATED ARTICLES
Vision Of Global Gas Cartel Gains Clarity
Putin To Take His Message To The Persian Gulf
Iranian Politicians Support Establishment Of Natural-Gas Cartel
'Gas OPEC' Moves Closer To Becoming Reality