Polls conducted in January indicate that First Deputy Prime Minister Dmitry Medvedev -- the closest St. Petersburg associate of Russian President Vladimir Putin -- has become the second-most popular politician in the country, after the president.
With a current approval rating of 18-24 percent, Medvedev surpasses his closest rival, Deputy Prime Minister and Defense Minister Sergei Ivanov.
Medvedev capped his success at home with an international debut at last week's World Economic Forum in Davos. The delegation he headed was mainly made up of members of the so-called liberal wing of the Russian government. With him, among others, were Economic Development and Trade Minister German Gref and the head of the Unified Energy Systems electricity monopoly, Anatoly Chubais.
Mikhail Delyagin, the director of the Moscow-based Institute of Globalization, told RFE/RL on January 25 that "the main political resource of these people is their good relations with the West. By rallying around Medvedev they want to not only improve Russia's image in the West, but also to solidify a political base for Medvedev."
'Who Is Dmitry Medvedev?'
Many commentators have suggested that Davos 2007 was Medvedev's coming-out party. The World Economic Forum has showcased Russian debutants before. In 1996, Russian oligarchs agreed to support Boris Yeltsin against Communist Party leader Gennady Zyuganov. In 2000, Putin's appearance at Davos prompted the famous question: "Who is Vladimir Putin?" Now commentators are asking: "Who is Dmitry Medvedev?"
Born in 1965 in St. Petersburg, if elected, Medvedev would be the youngest Soviet/Russian leader in modern history. The son of a professor, Medvedev graduated in 1987 from the Law Faculty of Leningrad State University, the same faculty Putin graduated from before joining the KGB. In 1989, Medvedev joined the team of Anatoly Sobchak, the first democratic mayor of St. Petersburg. It was there that he met Sobchak's first deputy, Vladimir Putin.
In his book "InThe First Person," Putin said he personally selected Medvedev as his legal adviser. During the 1990s, Medvedev also lectured in law at St. Petersburg State University and practiced as a corporate lawyer for several large paper and pulp companies.
Medvedev moved to Moscow and in 1999 then-Prime Minister Putin appointed him as deputy head of the presidential administration. Putin did that on the same day he received the presidential prerogative from Yeltsin. Later, Putin elevated Medvedev to the post of first deputy head of the presidential administration.
In 2000, Medvedev headed Putin's presidential election campaign. After his election, Putin rewarded Medvedev by making him chairman of the board of Gazprom, in addition to his duties in the presidential administration. In 2003, after removing Aleksandr Voloshin, a relic of the Yeltsin era, as the head of the presidential administration, Putin entrusted the office to Medvedev. Then in 2005, Putin moved Medvedev from his administration to the government, as the first deputy of Prime Minister Mikhail Fradkov. Putin also appointed Defense Minister Sergei Ivanov, the potential candidate of the "siloviki," former members of the military or security services, as a deputy prime minister.
National Projects
Russia watchers have speculated that Putin will eventually appoint Medvedev as prime minister -- an ideal spring board for a presidential campaign. In the meantime, they say, Putin has taken steps to boost Medvedev's domestic profile and increase his popularity.
In November 2005, Putin asked Medvedev to supervise the so-called national projects: five federal social programs intended to address Russia's ills in the spheres of health, education, housing, food production, and demography.
This role has thrust Medvedev into the public spotlight. He has appeared on national television screens almost as often as Putin. Moreover, Medvedev has toured Russia, promoting the national projects and meeting with the electorate.
But some critics have said that his tours are a misuse of funds allocated for the "national projects" and only intended as a crude and populist public-relations stunt ahead of next year's presidential election.
At least one national project -- accessible housing -- has shown some signs of failure. In many cities, thousands of Russians have become victims of property scandals. Housing prices in Moscow and big cities have reached record levels.
Regardless, Russian political elites continue to rally around Medvedev. A large number of his supporters come from business elites or from the state administration, in particular those who are not a part of -- or fear -- the siloviki.
Ambitions To Unite Elites
Two crucial factors work in Medvedev's favor. First, his reputation as a Putin loyalist and moderate liberal pragmatic striving to unite the Russian elite. In an interview with "Ekspert" magazine in November 2005, Medvedev warned: "If we do not manage to consolidate the elite, Russia could vanish as a unified state."
The second factor is the massive support he enjoys from Gazprom and its media empire -- this includes the national Channel One, the popular Ekho Moskvy radio, the "Izvestiya" and "Kommersant" dailies, and a host of smaller publications.
While the presidential race in Russia is only beginning, Medvedev has emerged as a clear favorite. If the momentum continues, he would have a serious chance of becoming the Kremlin's candidate. Under this scenario, observers speculate that presidential contender and siloviki candidate Ivanov would become Medvedev's prime minister.
Or, more intriguingly, Medvedev's advance could be a deflection tactic. As pro-Kremlin commentator Mikhail Leontiev wrote: Moscow would send to Davos "only those it does not care to save."
And don't forget the wild cards. The "Nezavisimoe analiticheskoe obozrenie" website noted on January 29 that many experts have said Putin's successor will not come from today's three most-probable candidates --Medvedev, Ivanov, and Russian Railway head Vladimir Yakunin.
But there is one thing the experts are agreed upon: the final choice will be dependent on one voter -- Putin himself.
Russia Beyond 2008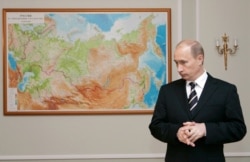 President Putin is mulling his political future (epa)

THE 2008 QUESTION: President Vladimir Putin's second term of office ends in the spring of 2008. Since the Russian Constitution bars him from seeking a third consecutive term, this event threatens to present a crisis in a country that has a history of managed power transitions. Already, Russian politics are dominated by the ominous 2008 question.
RFE/RL's Washington office hosted a briefing to discuss the prospects of Putin seeking a third term. The featured speakers were RFE/RL Communications Director Don Jensen and political scientist Peter Reddaway of George Washington University.
LISTEN
Listen to Don Jensen's presentation (about 16 minutes):
Real Audio
Windows Media
LISTEN
Listen to Peter Reddaway's presentation (about 35 minutes):
Real Audio
Windows Media
RELATED ARTICLES
Will Putin Pursue Third Term, Or Will It Pursue Him?
Could Yakunin Be 'First-Called' As Putin's Successor?
Putin Again Says He Won't Run For Third Term But Will 'Work' For Russia
Interview: Former Premier Kasyanov Warns Of Political Crisis
Former Premier Kasyanov Announces Run For President
ARCHIVE
RFE/RL's English-language
coverage of Russia
.

SUBSCRIBE
For news and analysis on Russia by e-mail,
subscribe to "RFE/RL Russia Report."