In a wide-ranging interview with RFE/RL, Klaus took aim at one of his favorite recent targets -- those calling for urgent action on global warming.
Klaus said some
environmentalists were peddling a lie
(click for full transcript) that there was a scientific consensus on the extent of man's impact on rising global temperatures and their consequences.
He said that "small" climate changes were being used to support far-reaching measures that would harm economic activity and human freedoms.
In the interview, Klaus also said opposition to a planned U.S. base near Prague must be respected, and that it was up to politicians to
explain to the Czech public why
they should play host.
Washington wants to place a radar station in the Czech Republic as part of a missile-defense system it says is aimed at countering potential threats from countries like Iran.
But polls show some two-thirds of Czechs oppose the plan.
Klaus said that was in part because people did not feel a clear enough threat, and that they weren't getting a sufficient explanation from politicians.
On what postcommunist members of the European Union could -- or should -- do to help democracy movements further east, Klaus said the idea of
exporting democracy or revolutions was a "fantasy"
that mostly ended badly.
And on the EU, Klaus affirmed his position as
an outspoken critic of closer integration
. He said he advocated further EU expansion because the more members it has "the weaker the power of Brussels will be."
Global Climate Change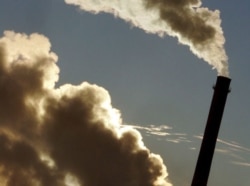 View a photo gallery summarizing some key findings of the Stern report on the economic costs of global warming (epa)

THE STERN REPORT: In October, former World Bank chief economist Sir Nicholas Stern issued a 700-page report on the economic impact of global warming. The report, which was commissioned by the British government, estimates that climate change could cost between 5 and 20 percent of global GDP by the end of the century....(more)
RELATED ARTICLES
Siberia's Once Frozen Tundra Is Melting
Blair Highlights Global-Warming Concerns
Scientists Argue About Need For Urgent Action
ARCHIVE
RFE/RL's
coverage of the environment
.