Several mortar bombs landed at another gas station in a nearby district, wounding six people.
Baghdad residents often queue for hours at gas stations for fuel, and insurgents have targeted them.
Suicide bombers attacked two gas stations on August 1, killing 70 people.
Also, the U.S. military said today that one of its soldiers has died of injuries sustained during a bomb attack near the Iraqi capital.
The military said the soldier was wounded when the roadside bomb exploded alongside a military vehicle during combat operations near Baghdad on August 4.

(Reuters, AP, AFP)

Troops In Iraq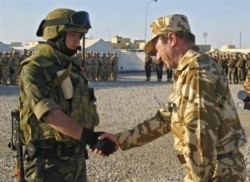 Armenia: Around 50 troops, comprising transportation, engineering, and medical units.

Azerbaijan: 88 troops, mostly infantry soldiers guarding the Hadithah dam.

Bosnia-Herzegovina: 37 troops, comprising munitions and demining units.
Georgia: Around 2,000 troops, mostly involved in combatting weapons smuggling.

Kazakhstan: 29 troops, mostly ordnance-disposal engineers.

Macedonia: 33 troops, mostly special forces.

Moldova: 11 troops, comprising demining and ordnance-disposal specialists.

Romania: Around 600 troops, comprising intelligence, security, and training units.

(Note: Only those countries from RFE/RL's broadcast region are listed.)
(Sources: RFE/RL, Reuters, GlobalSecurity.org)