Russia To Produce Ballistic Missile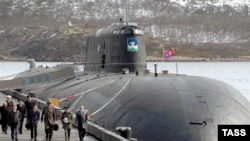 Russian nuclear submarine "Oryol" (Eagle) in Severomorsk in 2006 (ITAR-TASS) August 5, 2007 -- Russia will start production of a submarine-based intercontinental ballistic missile after a recent successful test that followed repeated misfires.
Russia's navy chief, Admiral Vladimir Masorin, said Russia had decided to order the industrial production of parts for the Bulava missile after a successful launch on June 28 from the White Sea.
Four out of the past six test launches since 2005 have failed.
Russia has the second-largest submarine fleet in the world, after the United States.
The fleet is the cornerstone of its nuclear deterrent.
(AP)