Russian President Vladimir Putin unveiled the idea at his summit meeting with President George W. Bush in Maine this week, but alliance ambassadors will not formally discuss Putin's latest offer when they meet on July 4.
NATO sources tell RFE/RL that informal exchanges may take place today over the ambassadors' traditional weekly lunch, but they say this will be limited to reiterations of national positions.
On July 2, during talks with Bush, Putin offered his host use of facilities in southern Russia in exchange for Washington dropping its current plans to place a radar in the Czech Republic and interceptor missiles in Poland.
Putin said his idea should be discussed in the NATO-Russia Council with the involvement of European nations.
Putin's offer expands on one he made at the G-8 summit in early June, when he suggested a radar base in Azerbaijan could remove the need for installations in Eastern Europe.
NATO officials privately said in June that the alliance views Putin's offer as a tactic to create and exploit divisions within the alliance.
Jaap de Hoop Scheffer, the NATO secretary general, publicly disparaged the offer of the Azerbajani base, saying it was "too close" to Iran.
The possible U.S. missile-defense arrangements to counter what Washington perceives as a threat by Iran are viewed by NATO as a matter for the United States alone.
All alliance member states agree the threat exists, but the United States is the only member state with the resources and technology to respond to it.
Officially, NATO's concerns at this stage are limited to ensuring that some southern European allies, who would not be covered by the U.S. shield, receive adequate alternative protection. To this end, NATO is now studying ways of setting up a smaller "bolt-on" shield.
Energy Security
However, there is potential for discord within the alliance. Russia is viewed as an important strategic partner by the larger continental European allies, particularly Germany and France.
Russia is the EU's preeminent energy supplier and its cooperation in the UN Security Council and elsewhere is essential for key EU global objectives. Most of the "old" EU member states, therefore, dread the possibility of a long-term confrontation.
On the other hand, most new member states of both NATO and the European Union aggressively canvass for solidarity within the organizations to counter what they believe is an increasingly undemocratic and threatening Russia.
Observers say it is an open secret within NATO and outside the alliance that Poland and the Czech Republic are both primarily interested in hosting U.S. military installations as an additional security guarantee.
Poland and other ex-Soviet member states of NATO have been somewhat perturbed by the absence of a clear U.S. rejection of what they see as Russia's spoiling tactics. A day after Putin's initial counter-proposal at the G8 summit, Bush met Polish president Lech Kaczynski, but no joint declaration on the issue emerged. Kaczynski and Bush will meet again in mid-July.
On July 2, Bush said Poland and the Czech Republic must remain "an integral part" of the missile shield, but he did not address at length Putin's latest idea or the Russian president's attempt to enlist the cooperation of unspecified "European nations."
NATO officials in Brussels have now entered a "wait-and-see" mode. All political decisions of any import are made in the 26 member state capitals, which are represented in Brussels by their ambassadors. Nominally, NATO operates by consensus, but in practice the United States calls most of the shots.
The Four Basic Considerations
Within the context of the missile shield, Washington will be guided by four basic considerations.
These are the need to ensure the best possible protection against the perceived threat from Iran, the imperative -- assumed by NATO allies -- of securing uncontested control over the missile shield, U.S. relations with its new eastern European allies, and the need to retain a good working relationship with Russia.
Within NATO, the United States will come under two, partly conflicting, pressures. One will originate from the Western European allies keen to avoid a strategic rift with Russia, the other from new Eastern European member states fearful that any concessions -- no matter how small -- will translate into a weakening of their positions vis-a-vis Russia.
Iran: Missiles And More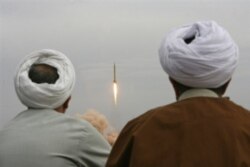 Iran tests its Shahab-3 medium-range missile in November 2006 (AFP)


HOW LONG A REACH? As the debate on missile defense sharpens, Tehran continues to develop its Shahab-3 missile, which is already capable of reaching some parts of Europe.... (more)
RELATED ARTICLES
Independent Nuclear Physicist Evaluates Iran's Nuclear Program
Iran Rocket Launch Another Show Of Prowess
How Close Is Iran To Getting Nuclear Bomb?
Iran's Super Weapons Claims Met With Skepticism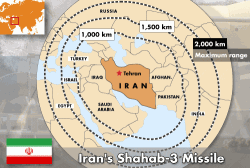 Click to enlarge the image.