Twenty-four hours in the brisk ocean air -- plus boat rides, fishing trips, and hearty family meals -- seemed to have had its intended effect on the two leaders.

When Bush and Putin appeared before reporters today, both men were smiling and in high spirits.
It was a marked contrast to how the relationship between the two men has been portrayed in recent month, as disagreement over missile-defense plans, Kosovo's final status, and sanctions against Iran has led to talk of a "new Cold War."
Agreement On Iran
Today Bush said the Kennebunkport talks had allowed the two to make "great strides" in laying the foundation for future U.S.-Russian relations on nuclear security issues.
Bush also praised the Russian leader's openness. "Through the course of our relationship, there have been times when we've agreed on issues," he said, "and there have been times when we haven't agreed on issues. One thing I've found about Vladimir Putin is that he is consistent, transparent, honest, and is an easy man to discuss our opportunities and our problems with."
Putin said the negotiations were "very substantial" and that he and Bush had discussed "the whole gamut of bilateral issues and international issues," even managing to find points of agreement on several.
Bush said the two men spent a lot of time talking about Tehran's nuclear program and agreed that they share the same concern that the country does not acquire nuclear weapons:
"This is an issue that we've been talking about for about six years, and I have come to the conclusion that when Russia and America speak along the same lines, it tends to have an effect," Bush said. "And, therefore, I appreciate very much the Russian attitude in the United Nations."
"I have been counting on the Russian support to send a clear message to the Iranians, and that support and that message is a strong message, and hopefully, we will be able to convince the regime that we have no problems with the people in Iran, but we do have a problem with a regime that is in defiance of international norms," he added.
Putin predicted that Washington and Moscow would continue to cooperate to find a solution at the United Nations.
"So far, we have managed to work together [on the Iranian nuclear issue] within the framework of the [UN] Security Council, and I hope this work will continue. I don't doubt that. Recently, we have seen some signals coming from Iran with regard to cooperation with the [International Atomic Energy Agency]," Putin said. "[European security chief Javier] Solana is playing a very active role in the dialogue with Iran. I think this will also contribute substantially to resolving the problem."
Putin Repeats, And Expands, Missile Base Offer
On one of the most closely watched issues of the summit -- ballistic-missile defense -- Putin expanded his earlier counterproposal to Bush for expanded cooperation between Russia and the United States.


At the G8 summit in Germany last month, Putin suggested that the United States shelve plans to establish radar defense sites in Poland and the Czech Republic and instead cooperate with Russian on a joint radar base in Azerbaijan.
Today, Putin repeated the suggestion and took it one step further.
"If need be, we are prepared to involve in this work not only the Gabala [Qabala] radar station, which we rent from the Azerbaijanis," the Russian leader said. "If necessary, we are prepared to modernize it, and if that is not enough, we would also be prepared to engage in this system a new early-warning station being built in the south of Russia."
Bush said he was in "strong agreement" about working bilaterally and through the NATO-Russia Council, and said he planned to follow up on Putin's latest suggestion with his advisers.

"It is more than an interesting idea; it is an idea that we are following up on through consultative meetings, which we have started," Bush said.
"And, as I told you, the president made a very, I thought, very constructive and bold strategic move, and that is that why don't we broaden the dialogue and include Europe through NATO and the Russia-NATO Council."
Warm Parting Words
Before heading inside for a final lunch with Bush and his family – former President George Bush; his wife, Barbara; and First Lady Laura Bush -- Putin praised the warm reception he and his delegation had received, and called the scenery "fantastic."
Yesterday's crowd of protesters – estimated at more than 1,500 – who called for Bush's impeachment and an end to the war in Iraq were nowhere to be seen today, according to RFE/RL's correspondent in Kennebunkport, Yury Zhigalkin.
This morning, after a breakfast of pancakes and omelets, the two leaders spent time together on the water in Bush's speedboat -- with Putin taking the helm at one point.
With their security teams floating in nearby boats, Bush and Putin even stopped to fish for a while near a rocky cove.
Putin later told reporters that only one fish had been caught, but that it had been "a joint effort" between himself and Bush, which drew laughter from Bush. The Russian leader made a point of adding that the fish had been set free.
The Russian Perspective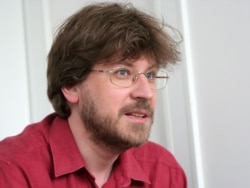 Fyodor Lukyanov (RFE/RL file photo)


'A SYMBOLIC RITUAL.' RFE/RL's Russian Service asked FYODOR LUKYANOV, the influential editor of "Russia In Global Affairs," to comment on the July 1-2 summit. Below are excerpts from that interview.
There is no reason to expect a radical turnabout because a radical turnabout in U.S.-Russian relations requires a profound rethinking of those relations and the emergence of some sort of strategic course. The problem is not in the personal relations between the two presidents or in the sum total of various factors of conflict. It is in the fact that since the Cold War no working models of interrelations have emerged. The relations that arose in the 1990s, for various reasons, didn't work. What we are seeing now are the consequences of the crisis of the 1990s model.
Serious work is required in order to develop solid, stable relations. And neither side is currently in a position to do this serious work with a long-term perspective.
[Bush] needs to save his foreign policy from total collapse. He has absolutely nothing to boast of. And if we add to the Iraq drama the final turn of relations with Russia into confrontation, then that will definitely complicate still more the position of the Republican Party and turn Bush into a foreign-policy monster. So, it seems to me, that he has a very short-term problem -- preventing a final collapse, preserving until Putin leaves the feeling that, "yes, we have many problems, but we are still partners; we are in dialogue, etc., etc."
This summit is, definitely, a symbolic ritual, all the more because it is taking place in a symbolic venue. This is the place where the father of the current president conducted serious negotiations concerning the end of the Cold War. Inviting Putin here, of course, is particularly symbolic. Both sides need to demonstrate that a process is going on. "Yes, we have complicated relations, but we are continuing to look for answers." And this is the state that should be maintained until the terms of both presidents come to an end.
ARCHIVE
To view an archive of RFE/RL's coverage of Russia,
click here
; to view an archive of RFE/RL's coverage of U.S.-Russian relations,
click here
.