Russia: Expert Says Bush Doesn't Want Legacy Of 'Losing' Russia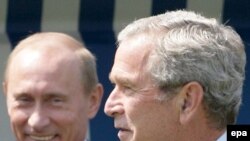 Putin (left) with Bush in Germany in June (epa) July 1, 2007 (RFE/RL) -- U.S. President George W. Bush and his Russian counterpart, Vladimir Putin, are due to gather today for a two-day summit at the Bush family compound in Kennebunkport, Maine. One person who will be watching the dynamics between the two outgoing presidents with interest is Marshall Goldman, professor emeritus of Russian economics at Wellesley College in the U.S. state of Massachusetts and the author of an upcoming book on Putin's energy policy. Goldman spoke with RFE/RL correspondent Yury Zhigalkin.
RFE/RL: What are your expectations for the summit?
Marshall Goldman: I don't have high expectations, because I think the issues that now separate the two countries can't be settled in two days, even if it's a nice, informal, warm two days between the two leaders. I think it's just too difficult at this point.
I think if it's at all possible to do anything like this, the setting in Kennebunkport will probably be the best. It'll be informal. Given the size of the Bush home there, it's impossible to have large amounts of staff at their beck and call. President George W. Bush's mother will be there making popcorn; they'll go swimming to see who can take the cold in the Maine water. So I think this is an enormous gesture by President Bush.
"In a conversation I had with President Bush just a year ago, he clearly was looking toward his legacy, what people will think of the Bush-2 administration 20 years down the road. He asked us that specific question, basically -- to go back and think of things that he could do, initiatives that he might take, that would make people look favorably upon this period."
RFE/RL: So what can Bush expect to receive in return for this gesture?
Goldman: As a minimum, a cooling of the rhetoric between both countries, and to see if, simply by force of their personalities, they can simply tell their bureaucracies, "OK, we have to work these things out." Whether it be agreeing on a radar system in Azerbaijan or getting the United States to withdraw its commitment to install the radar in the Czech Republic and the missiles in Poland. I mean -- there are some things that the leaders can do arbitrarily. It would be losing face, to some extent, and maybe that's what you have to do.
Who would have thought that [U.S. President Ronald] Reagan and [Soviet leader Mikhail] Gorbachev could reach some of the issues they agreed to? You had two very strong ideological opponents, so of course there was ideology. In this case, there's no ideology; it's just national pride and assertiveness. But it may come to nothing. I don't want to say that on Tuesday [July 3] we'll wake up and discover it's a brand new world. I don't want to give credit to either leader, necessarily, but where I do give credit to both of them -- and particularly to President Bush, who took the initiative -- is that they at least want to make a good try, to make an effort. And I can't think of a better way to have done it. I must confess, it was nothing I would have thought of. This goes way beyond the normal bounds of diplomacy.
RFE/RL: One of Bush's major issues with Russia right now is the hostility of its rhetoric. And yet, the more Moscow uses it, the more unpopular Russia becomes. So why would Bush bother fighting it?
Goldman: Well, it's true. Russia has made some very serious mistakes here. But in a conversation I had with President Bush just a year ago, he clearly was looking toward his legacy, what people will think of the Bush-2 administration 20 years down the road. He asked us that specific question, basically -- to go back and think of things that he could do, initiatives that he might take, that would make people look favorably upon this period. He sees that his term is coming to an end, and I think the last thing he wants is to say, "Well, I came in when Russian-American relations were pretty good -- not perfect, but pretty good -- and I'm leaving when Russian-American relations are almost as bad as they were during the Cold War." I think that's one thing he thinks he can counter, given his personal relationship he's built up with President Putin. And I think he wants to make that effort.
RFE/RL: Did Bush misjudge Putin when he famously observed he had looked into the Russian president's soul and seemingly found a man he could trust?
Goldman: It's a fair criticism. I think that statement was mainly intended to build a bond between the two leaders, of the sort that I just tried to describe. It had to do with that, and of course it also had to do with the born-again nature of President Bush, his embracing Christianity again after a period he himself describes as having gone wayward, and seeing that maybe this is what President Putin had too, and feeling that if you had two firm believers that they could work things out that might not otherwise be possible. And again, I think this is one of the things that he's going to do.
RFE/RL: Some say Bush lost Russia by supporting Putin, who proved the opposite of what he expected.
Goldman: What I think Bush is trying to do is to make one last effort to show that, indeed, he can deal with Putin and that, indeed, he has not lost Russia. I think that Bush recognizes that if he doesn't make this extra effort, that's indeed what people will say: "Bush came in with Russian relations pretty good and left with Russian relations pretty bad. You, President George W. Bush, lost Russia." I think he wants to avoid exactly that kind of criticism by doing this kind of thing. I think that's what motivates his efforts.
RFE/RL: Under these circumstances, how likely is it that Bush will emphasize the issue of human rights in Russia?
Goldman: I think he has to. Otherwise, President Bush loses his credibility within the United States. So this is really trying to square a circle. He's got to make these criticisms -- otherwise he loses his credibility here in the United States. And he's got to convince Putin to go easy on some of these things, which will cause Putin to lose his credibility within Russia. That's what makes this meeting such an intriguing one. "At least let's try to see if we can work some of these impossible differences out." And by saying they're impossible... I mean, maybe Hercules couldn't do, maybe Reagan and Gorbachev couldn't do it. But I think Putin and Bush both want to give it one good effort.
FURTHER READING
Confrontation Plays Well In Russia

Russian political scientist Andrei Piontkovsky tells RFE/RL that Moscow suffers from both an inferiority complex and a megalomanical complex.

more

The 'Myth' Of A Great Friendship

Former "Financial Times" Moscow correspondent David Satter tells RFE/RL that the relationship between Putin and Bush is "the imitation of friendship."

more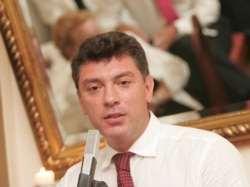 Boris Nemtsov speaking to an RFE/RL event in Prague on June 11 (RFE/RL)

'SOFT DICTATORSHIP.' Former Russian First Deputy Prime Minister Boris Nemtsov, a member of the Political Council of the Union of Rightist Forces party, told an RFE/RL gathering that Russia is facing a watershed moment with its 2008 presidential election.
LISTEN
Listen to the entire briefing (about 35 minutes):

Real Audio
Windows Media
ARCHIVE
RFE/RL's complete coverage of
Russia
. The website of
RFE/RL's Russian Service
.
SUBSCRIBE
For news and analysis on Russia by e-mail,
subscribe to "RFE/RL Russia Report."