Iran: Tehran Cooperating 'Just Enough' To Avoid More UN Sanctions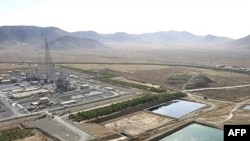 Iran's Arak heavy-water plant is said to still be years away from operation (file photo) (AFP) WASHINGTON, August 6, 2007 (RFE/RL) -- A technical team from the International Atomic Energy Agency (IAEA) is due to arrive in Iran today to discuss that country's nuclear program. Last week, IAEA inspectors visited a heavy-water reactor facility at Arak.
Gary Samore
is the vice president and director of studies at the Council on Foreign
Relations in Washington, and the former senior director for
nonproliferation and export controls at the National Security Council.
Radio Farda's Fatemeh Aman recently asked him to discuss the latest
events in the controversy over Iran's nuclear program.
Radio Farda:
Without IAEA monitoring there is a risk of the Arak reactor being configured to produce plutonium. The reactor has been kind of monitored by commercial satellite imagery, but the IAEA inspections slowed down significantly in the past few months. How important do you think it is that IAEA inspectors can now visit Arak?
Gary Samore:
It is not very important in the immediate sense because the reactor is still many years away from completion and operation. I think it is important politically, because Iran is trying to delay and weaken the next UN Security Council resolution by demonstrating greater cooperation with the IAEA.... And part of Iran's strategy is to give the IAEA more access to nuclear facilities under construction like the reactor located at the Arak heavy-water facility as well as offering to discuss with the IAEA some of the questions the agency has about past nuclear activities.
Radio Farda:
So you think the motivation of Iran agreeing to respond to the outstanding questions about Iran's past activities is just to avoid sanctions?
Samore:
That's entirely what it has to do with, because some of the countries on the Security Council have indicated that they do not want to pass another sanctions resolution if it will disrupt the cooperation between the IAEA and Iran. So Iran has offered to improve its cooperation with the IAEA with the intent of providing the reason to delay the next Security Council resolution.
So far, this strategy has been successful because five permanent Security Council members have agreed to postpone consideration of the next sanction resolution until September. And my guess is that in September Iran will, again, try to demonstrate just enough cooperation with the IAEA to provide further reasons to delay the next Security Council resolution. The Russians and the Chinese, as well as the IAEA, will argue that the Security Council should allow more time for the IAEA and Iran to resolve the questions about [Iran's] past activities.
Radio Farda:
But assume that Iran is really trying to delay the new round of sanctions, if their tactics could result in slowing down Arak's construction, one could argue that it would be advantageous to Western interests.
Samore:
Well, they are not offering to slow down construction at the Arak facility. What they are doing is giving the IAEA the opportunity to visit the facility before it is ready for international inspections. But, as I said, the Arak facility will not be finished and operated for many years, so it does not really pose an immediate concern.
A much more immediate concern is the enrichment facility located at Natanz. And, in that case, there is also some evidence of Iran slowing down the installation of centrifuge machines and giving the IAEA a little more access to the facility, but Iran still refuses to accept the UN Security Council demand to suspend all of its enrichment activities as a condition for beginning international negotiations. And I do not see much evidence right now that Iran is prepared to accept the UN Security Council demand.
Radio Farda:
Many Iranian officials have attempted to downplay the significance of the sanctions against Iran. Some experts argue that sanctions have not even brought a poor county like Cuba to its knees. How effective are sanctions to force Iran to stop enrichment?
Samore:
Well, Western strategy is designed to impact the domestic power struggle within Iran between different factions of the government. And the belief in the United States, in London, and Paris is that the opponents of President [Mahmud] Ahmadinejad will have a stronger basis for arguing that Iran should avoid confrontation if the UN Security Council imposes sanctions that will add to Iran's economic difficulties.
I mean, Iran has a number of economic difficulties that have nothing to do with sanctions. But the belief is that sanctions can help tip the balance of power in favor of those factions in Iran who argue that Iran should accept the temporary suspension of the enrichment program in order to pursue international negotiations with [the permanent five members of the UN Security Council] plus Germany.
Now, whether that strategy will work or not, we do not know. The argument is that the first two sanctions resolutions are not enough and you need to pile on more sanctions in order to really have an impact. Obviously, Iran wants to avoid additional sanctions and that is why it is taking steps to cooperate with the IAEA to prevent or weaken the next sanctions resolutions.
Radio Farda:
Beside the offer for a pause in both UN sanctions and Iranian uranium enrichment that IAEA Director-General Muhammad el-Baradei has suggested, he also mentioned leaving Iran with a partial-enrichment capability. What is the farthest the West would go to peacefully make Iran stop its facility at Arak?
Samore:
I think certainly that what the Iranian government has indicated is that it would accept the solution that would allow Iran to retain or pursue an enrichment capability subject to additional political and technical constraints. For example, additional IAEA inspections or even joint ownership with foreign companies.
And that kind of solution is not acceptable to the Western powers because they fear that once Iran develops an enrichment capability -- even under international inspection -- Iran still could decide in the future to use that facility for military purposes if it expels inspectors or nationalizes the facility or if it builds a secret facility somewhere that would be based on the same technology. So, those kind of compromises are not acceptable to the U.S., U.K., or France, and I think if the negotiations ever begin -- that would be one of the issues to be discussed. But at this time, that is not something the Western powers are prepared to accept.
Battling Nuclear Proliferation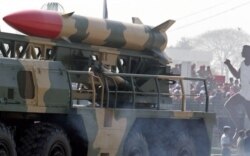 A nuclear-capable, short-range missile on display in Islamabad, Pakistan, in March (AFP)


IS PROLIFERATION INEVITABLE? On June 18, RFE/RL hosted a briefing featuring Henry Sokolski, executive director of the Nonproliferation Policy Education Center. Sokolski discussed the challenges to the global nonproliferation regime and what Western countries can do to strengthen it.
LISTEN
Listen to the entire briefing (about 60 minutes):

Real Audio
Windows Media
RELATED ARTICLES
El-Baradei Says Attack On Iran Would Be Catastrophic
Rogue Nuclear Programs Threaten New Arms Race
Why Shouldn't Pyongyang Join Nuclear Club?
U.S. Official Outlines Concerns About Iran's Nuclear Program