Bush and Karzai spoke at a news conference in Camp David, the presidential retreat near Washington, as they ended two days of talks on the crises confronting Afghanistan.

Bush praised the role that Afghanistan's new army is playing in the fight against insurgents, and said it is in the interests of both countries to prevent extremists from "derailing this young democracy."
"There's still a fight going on, but I'm proud to report to the American people that the Afghan Army is in the fight. The government's in the fight, and the army's in the fight," Bush said.
Karzai said the Taliban's resurgence was harming individuals, but posed no threat to his government.
He also said that the international effort in Afghanistan has saved the lives of tens of thousands of Afghan children.
Bush expressed regret over civilian deaths in Afghanistan, and said the United States was doing everything in its power to avoid civilian casualties.
Destabilizing Neighbors
Answering a question about Iran, Bush said he would pursue efforts to prevent the government in Tehran from obtaining dangerous weapons, and said that country is "not a force for good."
"I believe that it's in the interests of all of us that we have an Iran that tries to stabilize, not destabilize, and [that] Iran gives up its weapons ambitions. And, therefore, we're working to that end," Bush said.
Discussing militancy in Pakistan, Bush said he was confident that with the right intelligence, the U.S. and Pakistani governments can bring Al-Qaeda leaders to justice.
Bush did not rule out consulting with Pakistan first before ordering U.S. forces to take action again Al-Qaeda leaders.
Russian Support
As Bush and Karzai met today, Russia also extended what Finance Minister Alexei Kudrin called a gesture of support for Afghanistan's government. The Finance Ministry announced that Moscow has agreed to cancel 90 percent of Afghanistan's Soviet-era debt, amounting to more than $10 billion.
The Afghan government will have 23 years to pay the remainder of the debt, which amounts to $730 million.
(compiled from agency reports)

U.S.-Afghan Relations
STRATEGIC PARTNERS:
Since leading the military campaign to oust the fundamentalist and largely unrecognized Taliban regime from power in 2001, U.S. officials have pledged a long-term interest in Afghan stability.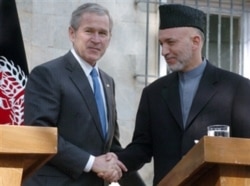 READ
'Strategic Partnership' Seen As Move Toward De Facto Rights For U.S. Bases
Analyst Discusses Increased U.S. Effort
Bush, Karzai Agree On Strategy Against Terror
Former CIA Analyst Says West Misunderstands Al-Qaeda
For regular news and analysis on Afghanistan by e-mail, subscribe to "RFE/RL Afghanistan Report."