More Ministers To Boycott Al-Maliki Cabinet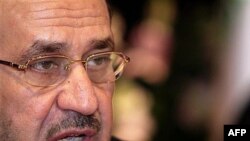 The ministers complained about the performance of Prime Minister Nuri al-Maliki (AFP) August 6, 2007 -- Five ministers loyal to former Prime Minister Iyad Allawi, Iraq's first leader after the fall of Saddam Hussein, today said they will boycott future cabinet meetings.
One of the five ministers, Human Rights Minister Wijdan Michael, said "we are still in the government but we are boycotting cabinet meetings."
Michael added that the ministers sent a list of demands to Shi'ite Prime Minister Nuri al-Maliki several months ago but received no response.
The ministers belong to the Iraqi List, a secular political grouping, and include Sunni, Shi'ite, and Christian politicians.
The move follows the pullout last week of the six ministers from the Iraqi Accordance Front, the biggest Sunni Arab bloc in the national unity government. The ministers of the Accordance Front were also protesting what they said was al-Maliki's refusal to address their demands.
(Reuters, AP)


SUBSCRIBE For weekly news and analysis on Iraq by e-mail,
subscribe to "RFE/RL Iraq Report."