Over the next three days, tribal leaders, government officials, and other influential representatives from Afghanistan and Pakistan will discuss a common strategy to confront support for Al-Qaeda and Taliban fighters.
Officials from both countries said the main aim of their first joint council -- the "peace jirga," or assembly -- is to find paths to restoring peace in the region.
In his speech to the assembly today, Afghan President Hamid Karzai said that Afghanistan and Pakistan can defeat the Taliban and Al-Qaeda threat if they work together.
"If the problem is from the Afghanistan side...Afghanistan will accept the fact and seek ways to solve it," Karzai said.
"If the problem is from the Afghanistan side and [Afghanistan] has done something wrong, Afghanistan will accept the fact and seek ways to solve it. If the problem is [in Pakistan], we hope that the solutions are found there. If the problem is between tribes, the tribes will try to find ways to resolve the issue," Karzai said.
Notable Absence
Not present at the peace jirga is Pakistani President Pervez Musharraf, who pulled out of the assembly at the last moment to deal with reported security threats in his home country.
Despite Musharraf's absence, Afghan Foreign Ministry spokesman Sultan Ahmad Bahin told RFE/RL's Radio Free Afghanistan that Kabul has high hopes for the gathering. "We are optimistic about the results of the [jirga], but this is only a beginning. It is a good beginning and an important step," he said.
Some others are less optimistic. Delegations from Pakistan's North and South Waziristan -- tribal areas where insurgents reportedly get much of their support -- have boycotted the peace jirga.
There is no Taliban representation at the jirga. Some critics have argued that without any voice for the Taliban or their supporters, the talks could prove ineffectual.
Afghan presidential spokesman Humayun Hamidzada countered that the Taliban "do not believe" in peaceful values. In remarks to Radio Free Afghanistan, he also downplayed the impact of the Waziristan delegations' absence at the peace jirga.
"We should not forget that a number of influential clan and religious leaders, as well as government officials, are participating. Their presence shows that we are able to have very good talks, and all issues will be addressed properly," Hamidzada said.
Feuding Neighbors
The peace jirga was first planned late last year during a meeting in Washington between the Afghan, Pakistani, and U.S. presidents. The idea was to put an end to cross-border violence while bringing together Afghanistan and Pakistan -- two neighbors often divided by political feuds.

Each country -- important U.S. allies -- has blamed the other for contributing to insurgency in the region.
Officials in Kabul have repeatedly accused Pakistan of giving safe haven to Taliban and Al-Qaeda fighters in order to keep Afghanistan weak.
Islamabad denies that allegation, and says the growing insurgency in Afghanistan is due to internal Afghan problems.
The peace jirga is seen by many people as an important step to dialogue and cooperation between the two countries.
The peace jirga is taking place in a traditional venue -- a huge tent -- amid tight security measures, with hundreds of police and soldiers stationed in the area.
Afghanistan And Pakistan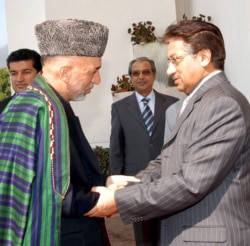 Afghan President Hamid Karzai (left) with Pakistani President Pervez Musharraf in Islamabad in October 2005 (epa)

ACROSS A DIFFICULT BORDER. The contested border between Pakistan and Afghanistan is some 2,500 kilometers long and runs through some of the most rugged, inhospitable territory on Earth. Controlling that border and preventing Taliban militants from using Pakistan as a staging ground for attacks in Afghanistan is an essential part of the U.S.-led international coalition's strategy for stabilizing Afghanistan. Officials in Kabul have been pointing their fingers at Pakistan for some time, accusing Islamabad or intelligence services of turning a blind eye to cross-border terrorism targeting the Afghan central government. Many observers remain convinced that much of the former Taliban regime's leadership -- along with leaders of Al-Qaeda -- are operating in the lawless Afghan-Pakistani border region.... (more)
RELATED ARTICLES
Pakistan-Afghanistan Conflicts Continue
Karzai, Musharraf Spar Ahead Of Bush Meeting
Musharraf Says Taliban Could Spark Pashtun 'National War'
Afghan Minister Attacks Pakistani Support For 'Terrorism'
Historical Context Of Afghan-Pakistani Relations
Afghanistan/Pakistan: 'Inseparable Twins' In Need Of Separation
ARCHIVE
RFE/RL
coverage of Afghanistan
. RFE/RL
coverage of Pakistan
.
SUBSCRIBE
For weekly news and analysis on Afghanistan by e-mail,
subscribe to "RFE/RL Afghanistan Report."