The Central Election Commission has refused to register candidates from the Bloc Yuliya Tymoshenko, saying they had failed to submit exact addresses.
Tymoshenko, a former prime minister, says the decision is illegal and politically motivated and plans to appeal the decision in court.
Ukrainian President Viktor Yushchenko today asked election officials to work out a "technical" issue and allow the bloc to take part in the polls.
The top 10 candidates on the bloc's list are all former legislators.
Candidates from Prime Minister Viktor Yanukovych's party and from Yushchenko's Our Ukraine group were successful in registering with the commission.
Eight of the commission's 15 members represent the pro-Russian governing coalition led by Yanukovych, whose bid for the presidency was thwarted by the Orange Revolution that broke out after tainted elections in late 2004.
Tymoshenko was a leader of that bloodless revolution, along with Yushchenko.
She also served as prime minister in 2005 ahead of a high-profile dispute with Yushchenko.
The September polls are aimed at solving a bitter power struggle between Yushchenko and Yanukovych.
The dispute was sparked by Yushchenko's decision to dissolve parliament.
Yushchenko accused Yanukovych's parliamentary majority of trying to usurp power.
(AP, Reuters)
Spotlight On Yuliya Tymoshenko
Spotlight On Yuliya Tymoshenko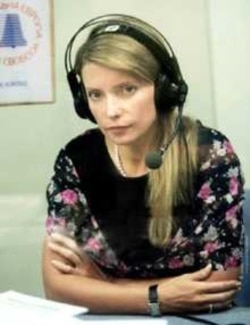 READ
Former Prime Minister
YULIYA TYMOSHENKO
has long been a controversial figure in Ukrainian politics. A former economist and head of Unified Energy Systems (EES) of Ukraine from Dnipropetrovsk in eastern Ukraine, Tymoshenko served as deputy prime minister for energy in the cabinet of Viktor Yushchenko, when he was prime minister under former President Leonid Kuchma. She has faced legal troubles linked to corruption allegations both in Ukraine and in Russia, although all cases against her have now been dropped. Tymoshenko was a firebrand of the opposition movement during the 2004 Orange Revolution, leading demonstrators to surround the presidential administration and issuing ultimatums to the Kuchma government.
In March 2005, President Viktor Yushchenko named her prime minister, a post that she held until September of that year. In August, on the occasion of the six-month anniversary of her appointment, Tymoshenko spoke with RFE/RL at length, discussing, among other things, the then-looming gas conflict with Russia and the likelihood of a "difficult and dirty" battle in the upcoming parliamentary elections
....(more)
See also:
Interview -- Yuliya Tymoshenko Marks First 100 Days As PM
Former Prime Minister Offers President Olive Branch
Former Prime Minister Tymoshenko To Go It Alone

ARCHIVE: An archive of RFE/RL's reporting and analysis on Ukraine's Orange Revolution.
LISTEN
Listen to an audio portrait of the Orange Revolution from RFE/RL's archives. Click
here
for Real Audio and
here
for Windows Media.