What is known is that there were casualties that day, and the armed conflict that came to be known as Georgian-Abkhaz war began.
Georgia's official reason for sending police and national-guard units into Abkhazia was to protect rail lines that were frequently being targeted by robberies.
What followed was a sporadic and largely spontaneous 413-day war in which -- with the active support of Russia's armed forces -- the Abkhaz separatists defeated Georgian forces and obtained de facto autonomy.
An estimated 16,000 people were killed in the fighting, and more than 200,000 ethnic Georgians were displaced. Abkhazia has maintained de facto independence since the war, although it is not recognized by the international community. The conflict remains unresolved -- or "frozen," as it is often called -- to this day.
Fruitless Efforts At Reunification
Since coming to power in 2004, Georgian President Mikheil Saakashvili has made the restoration of Georgia's territorial integrity a priority of his presidency. He has often stressed the need to resolve the conflict by peaceful means, and has offered Abkhazia wide autonomy within Georgia.
"I want to address the Abkhaz and once again offer them to start negotiations on federal relations, and wide guarantees to their autonomy, including international ones. We extend hand of friendship to the Abkhaz people, and I am ready to repeat what I just said in the Abkhaz language [speaks in Abkhaz]," Saakashvili said on Georgian independence day on May 26, 2004.
But Georgia's initiatives have proven to be virtually fruitless. Several attempts to start negotiations have failed, and the future status of Abkhazia remains unresolved.
"What I can say now is that the Georgian leadership hasn't done anything to heal these wounds, and to change anything in relations between our peoples," Sergei Shamba, the foreign minister of the self-declared republic of Abkhazia, told RFE/RL's Georgian Service on August 13. "On the contrary, they keep making the situation worse. As a result, we have the existing antagonism."
Worthless 'Autonomy'
Some observers believe one reason for the failure to resolve the crisis is because Abkhazia has become a factor in the difficult relations between Russia and Georgia, with Russia backing the de facto Abkhaz government.
Georgia's gestures offering Abkhazia wide "autonomy" also seem problematic to some. RFE/RL regional analyst Liz Fuller is among them.
"Every single peace proposal that President Saakashvili comes up with is based on the term 'autonomy.' And -- in the post-Soviet context -- the very term 'autonomy' is absolutely devalued, because the autonomous republics and the autonomous oblasts in the Soviet Union had absolutely no autonomy at all," Fuller says. "Thus, the autonomy is not what the Abkhaz want."
But the key problem, according to Fuller, is the inconsistency with which the Georgian government pursues its policies -- stressing the importance of peaceful conflict resolution on the one hand, and conducting what she describes as a "huge military build-up" on the other.
What is clear, is that the 15th anniversary of the war's beginning is being remembered very differently in Georgia and Abkhazia.
In Tbilisi, it is the "heroes that fell protecting Georgia's territorial integrity" who are being remembered, while in those in the breakaway region's capital Sukhum(i) are mourning those who died fighting for "independence."
Georgia's Road To The West
Georgia's Road To The West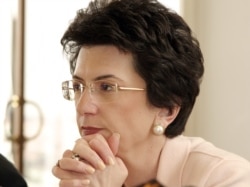 Georgian parliament speaker Nino Burjanadze giving a presentation at RFE/RL's Prague broadcasting center (RFE/RL)
BETWEEN RUSSIA AND THE WEST: Georgian parliament speaker Nino Burjanadze told an RFE/RL briefing that her country is under intense pressure from Russia.
LISTEN
Listen to the entire briefing (about 55 minutes):

Real Audio
Windows Media
RELATED ARTICLES
Georgian Speaker Reflects On Regional Relations
Is Putin's CFE Threat Aimed At The Caucasus?
EU Envoy Touts Georgian Confidence-Building Measures
SUBSCRIBE
For weekly news and in-depth analysis on Armenia, Azerbaijan, Georgia, and Russia's North Caucasus by e-mail,
subscribe to "RFE/RL Caucasus Report."