During a press conference at Almaty's National Press Club today, Zhandoz Kashkimbaev and Bakhyt Qayraqbay called on Kazakh voters to use traditional paper ballots instead of casting their votes on the electronic device.
The electronic-voting system, which was introduced during Kazakhstan's 2004 parliamentary elections, has been approved and recommended by the Central Election Commission.
However, the two IT experts say the electronic system makes it easier for the election authorities to manipulate votes if they would want to.
"The system is well-protected from possible external meddling, but it is vulnerable to possible internal interference," Qayraqbay said.
The authorities have dismissed the two men's claims as "baseless."
Samat Uvaliev is in charge of the electronic-voting system at the Kazakh Central Election Commission.
Uvaliev told RFE/RL that authorities would not be able to interfere with the voting system. He said the system's operations will be closely monitored by independent observers.
Kazakhstan And The OSCE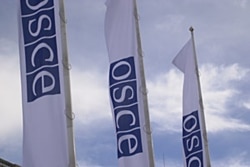 READY TO LEAD THE OSCE? Kazakhstan has been lobbying to be granted the rotating chair of the Organization for Security and Cooperation in Europe (OSCE) in 2009. In March, current OSCE head Karel De Gucht visited the country and said Kazakhstan is better prepared to head the OSCE than any other Central Asian country. But concerns about the state of democracy, the media, and ethnic relations make Kazakhstan's bid extremely controversial....(more)
RELATED ARTICLES
OSCE Says Kazakh Presidential Vote Flawed
OSCE Says Kazakh Obligations Not Met Ahead Of Vote
OSCE Offers Amendments To Kazakhstan's Draft Media Law
ARCHIVE
RFE/RL's
coverage of Kazakhstan
. The website of
RFE/RL's Kazakh Service
.