Kazakh Prosecutors Say Police Averted Terrorist Attacks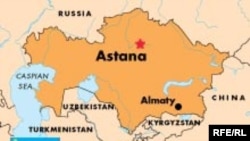 (RFE/RL) August 15, 2007 (RFE/RL) -- Prosecutors in southern Kazakhstan said today that several potential terrorist attacks had been prevented in Shymkent ahead of President Nursultan Nazarbaev's visit to the region in April, RFE/RL's Kazakh Service reported.
The regional prosecutor's office said an unnamed Islamic group had been planning to conduct widescale attacks that would result in the blowing up of the National Security Committee building in Shymkent.
It says at least 13 members of the group have been arrested.
The suspects were indentified as being members of the jihadist wing of the Salafi movement.
(with Interfax)
RFE/RL Central Asia Report

SUBSCRIBE For regular news and analysis on all five Central Asian countries by e-mail,
subscribe to "RFE/RL Central Asia Report."