Aliev has long been a controversial figure in Kazakhstan and a person with great knowledge of the workings of the government's inner circle. The Viennese court's decision will surely not be welcomed by Kazakh authorities.
No Fair Trial
Aliev stands accused of corruption, assault, and kidnapping in Kazakhstan. But the Austrian court decided Aliev would not be given a fair trial if he were returned to Kazakhstan, as Kazakh authorities have requested.
"This is a huge blow to the security of President Nazarbaev himself and his circle because Rakhat Aliev has already made it clear he is prepared to cooperate with certain agencies to provide information connected with Kazakhgate and other cases of corruption."
That is something that even some in Kazakhstan -- like Maria Pullman of he Kazakh Bureau on Human Rights and Rule of Law -- are willing to concede is true.
"Unfortunately we live in a state with a collapsed system of justice," Pullman says. "Providing an impartial, objective, and full investigation of the case is not possible here."
Andrei Chebotarev, an independent analyst, says the current situation in Kazakhstan surrounding Aliev also raises suspicions about a fair trial in Kazakhstan taking place.
"[There are] numerous articles published against Rakhat Aliev from representatives of the authorities and media loyal to the authorities," he says. "This shows that things are going the way they went when there was repression against those who were deemed enemies of the people. This has apparently alarmed Western societies."
But for many in Kazakhstan this is not a case of a political figure escaping an unfair justice system, according to Amirzhan Kosanov of the opposition Social Democratic Party.
Looking For Answers
"In any case, the issue is not about whether to extradite [Aliev] or not," Kosanov says. "Kazakh authorities use all the resources on an international scale and an internal scale to do what they can to portray Rakhat Aliev and the people around him as thugs and criminals. What we need, we need his answers to those accusations. From the human point of view, those whose loved ones were beaten or are missing of even killed need answers. That's why he [Aliev] has to come here and tell them what is black and what is white."
Aliev has been accused of serious crimes and there are people in Kazakhstan who feel he is the only one who can answer the questions that they so desperately want cleared up.
One is Armangul Qapasheva. Her husband is Zholdas Timraliev, once a top official with Kazakhstan's Nurbank who had a conflict with Aliev in January. Qapasheva told RFE/RL at that time what her husband said the last time they saw each other in January, after Timraliev disappeared for a day.
"He said that he was handcuffed all night to a weight machine and not allowed to sleep while Rakhat Aliev personally beat him," Qapasheva said.
Timraliev has not been heard from since late January and Qapasheva believes Aliev knows something about her husband and she plans on going to Austria to try to ask Aliev some questions.
Will He Talk?
"I will go to Austria," she said. "I am waiting for my visa. Surely I will go. In this case [in which Aliev will not be extradited], there is an even greater need for me to go. I want to at least meet with him and ask him concretely [about my missing husband]."
Dosym Satpaev, analyst and director at the Risks Assessment Center in Kazakhstan, also notes that for some in the Kazakh government, especially the Kazakh president, it would be better if Aliev was in Kazakhstan and not roaming free in Europe.
"This is a huge blow to the security of President Nazarbaev himself and his circle because Rakhat Aliev has already made it clear he is prepared to cooperate with certain agencies to provide information connected with [the alleged kickbacks to officials from oil sales known as] Kazakhgate and other cases of corruption," he says. "Taking into consideration that Rakhat Aliev has a gigantic amount of compromising information, his presence on the territory of Europe and -- if no one hands him over -- his long-term presence there represents a constant threat to the president, to his circle and to his family."
The Kazakh Embassy in Austria decline to comment to RFE/RL. Kazakhstan's Interior Ministry said it did not have enough information to comment and spokesman Bagdat Kozhakhmetov could only offer the following.
Possible New Charges
"We don't know anything ourselves," he said. "We didn't get any official documents on this decision. As soon as we get them, I'll let you know. I'll call you myself."
Aliev has just this week been mentioned as possibly having links to the disappearance of a female television journalist whose body was recently found after she went missing in 2004.
But even if murder or some other charges are brought against Aliev and Kazakhstan again requests his extradition, that would not necessarily mean that Aliev would be coming back to Kazakhstan any time soon.
(RFE/RL's Kazakh Service Director Merhat Sharipzhan and correspondent Danabek Bimenov contributed to this report.)
Kazakhstan's Fallen Opposition
Kazakhstan's Fallen Opposition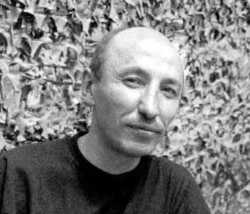 Slain Kazakh journalist Askhat Sharipzhanov (undated RFE/RL file photo)
February 13, 2006:
Altynbek Sarsenbaev
-- a leader of the Kazakh opposition, co-chairman of the Naghyz Aq Zhol party, former minister of information, former Kazakh ambassador to Russia, former secretary of Kazakhstan's Security Council -- is found dead with his bodyguard and his driver, shot to death, execution style, with their hands bound behind their backs.
November 11, 2005: Zamanbek Nurkadilov-- prominent Kazakh politician, former mayor of Almaty, former Minister of Extraordinary Situations, and since a vocal critic of President Nursultan Nazarbaev since March 2004 -- is found shot to death, with two shots in his chest and one in his head. Kazakh authorities officially rule the case a suicide.
June 2, 2005: Batyrkhan Darimbet -- opposition journalist and editor in chief of the weekly AZAT -- is killed in what is officially reported as a traffic accident. Relatives and activists assert that it was a political killing.
December 19, 2004: Erzhan Tatishev -- head of Kazakhstan's largest bank, TuranAlemBank -- is killed in what was officially described as a hunting accident. Kazakh political observers allege that it was a premeditated assassination.
July 20, 2004: Askhat Sharipzhan-- independent journalist and political commentator for NAVI online -- dies of injuries sustained several days earlier in what was officially reported as a hit-and-run accident. Relatives and colleagues believe it was an assassination.
November17, 2002: Independent journalist Nuri Muftakh is killed in what is officially reported as a traffic accident. Colleagues and activists regard the death as suspicious.
January 4, 2002: Human rights activist Aleksei Pugaev is found dead, the victim of a hit-and-run car accident. Colleagues regard the circumstances as suspicious and no one is ever arrested in connection with the death.
(compiled by RFE/RL's Kazakh Service)
RELATED ARTICLES
Sarsenbaev Murder Trial Begins
Kazakh President Tries To Calm Growing Political Crisis
Nazarbaev Landslide Buries Future Problems
Nazarbaev Touts Stability In Run-Up To Election
ARCHIVE
To view an archive of RFE/RL's coverage of Kazakhstan, click here.

SUBSCRIBE
For weekly news and analysis on all five Central Asian countries by e-mail, subscribe to "RFE/RL Central Asia Report."