Kazakh President's Daughter Confirms Divorce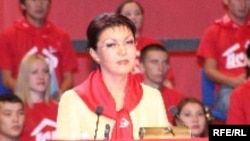 Darigha Nazarbaeva (file) (RFE/RL) June 20, 2007 (RFE/RL) -- Darigha Nazarbaeva, the eldest daughter of Kazakhstan's president, has confirmed her divorce from her fugitive husband.
Nazarbaeva told local media it was a painful decision to seek divorce from Rakhat Aliev, who is currently in Austria where he faces charges of money laundering.
Aliev earlier said he received a fax on June 11 informing him of the divorce, and that he did not agree to it.
Aliev faces extradition to Kazakhstan where he is wanted on charges of abduction and assault.
(RFE/RL's Kazakh Service, Kazakhstan Today, Interfax)