Terrorists or militants take a civilian hostage. But the government won't negotiate, saying that giving in to their demands would only encourage further abductions. So the life of the hostage is left hanging in the balance.
Enter the NGO.
In times of war, such as in Afghanistan, nongovernmental organizations (NGOs) have been used to fill the vacuum left by reluctant governments and talk to hostage takers, such as the Taliban.
The results have been mixed, at best. But then again, nobody ever said hostage negotiation is an easy business.
'Complicated Situation'
"Getting involved in such things can be very tricky," says Carlo Garbagnati, vice president of Emergency, an Italian NGO that runs hospitals and first-aid points across Afghanistan, including in the violent southern regions that have witnessed a dramatic resurgence of the Taliban insurgency.
"It's never clear. Nobody ever wants the same thing, even among the kidnappers. So, getting involved in such a complicated thing is tough, and it's not even what we do for a living," Garbagnati says.
Because of its unique presence and contacts in those areas, the NGO was asked by the Italian government in the spring to help secure the release of Daniele Mastrogiacomo, a well-known Italian journalist whom the Taliban had taken hostage.
Garbagnati says Emergency gladly accepted, since the NGOs raison d'etre is about saving lives.
No 'Rewarding' Terrorists
But he acknowledges that an NGOs outlook is not always the same as a government's. As former White House spokesman Scott McClellan put it last year in discussing U.S. policy on talking to terrorists: "We put them [terrorists] out of business. The terrorists started this war, and the president made it clear that we will end it at a time and place of our choosing."
So it came as little surprise that the United States denounced the deal that Emergency brokered to secure Mastrogiacomo's release. Under the deal, five jailed Taliban militants -- three of them high-level -- were freed in exchange for the reporter.
The United States, Germany, Britain, and the Netherlands all complained that the deal put NATO troops in danger and rewarded kidnappers.
It also was seen as a blow to the prestige of Afghan President Hamid Karzai, who reportedly signed off on the deal, but later vowed publicly that there would be no more deals with terrorists.
Indeed, Garbagnati says that in the talks, the Taliban seemed more interested in sullying Karzai's reputation than in securing the release of its own prisoners or receiving ransom money.
"They didn't want to know anything about money. It irritated them to talk about it," he says. "They exclusively sought the release of their prisoners. But did they really care what or how many prisoners were released? Or was it really more about winning some political game with the Karzai government? The latter point was probably it."
Carry-Over Effect On Korean Negotiations
In recent days, it's seemed that the Mastrogiacomo affair has hung over the talks South Korean officials have conducted with the Taliban in a bid to win the release of 19 civilian aid workers.
Afghan officials have spoken little about the talks. Ghazni Province Governor Merajuddin Pattan told RFE/RL's Radio Free Afghanistan this week that officials had allowed the Koreans to meet with the militants.
"We haven't met with [the Taliban] face-to-face. On the request of the Korean delegation, to secure the release of the Korean hostages, we have given the Taliban the chance of face-to-face talks with the Korean delegation," Pattan said. "Otherwise, they are always hiding in holes."
Apparently, that's all the government has been willing to concede so far.
Indeed, on August 18, the Taliban said the talks had failed and that they are now deciding the fate of the 19 Koreans. A Taliban spokesman said the Korean negotiators apparently did not have the power to persuade Kabul to meet demands for the release of its members from prison.
Kabul, this time, appears unwilling to give in to the Taliban's demands.

Different Priorities
Garbagnati acknowledges that governments, especially in times of war, have a different set of priorities than NGOs:
The NGOs' "approach values life differently than does, say, a government. It's understandable," he says. "Governments have armies. They make war. They have a horizon of values that is different, even if they want the same thing. I believe the Afghan government would be quite happy if the Korean hostage situation were resolved favorably. But while it's willing to do some things, it's not willing to do many other things."
The Taliban, who originally abducted 23 Koreans, have killed two of them and released two others. Now they are threatening that their final price will be very high if their demands aren't met.
Garbagnati knows what he would do. "The idea [is] to try and obtain salvation -- which means that a person, or in this case, about 20 people, rather than dying, live," he said. "Well, it's in the DNA of an NGO to try do what it believes in."
It seems that in such situations, there are two choices, and both are unacceptable.
U.S.-Afghan Relations
STRATEGIC PARTNERS:
Since leading the military campaign to oust the fundamentalist and largely unrecognized Taliban regime from power in 2001, U.S. officials have pledged a long-term interest in Afghan stability.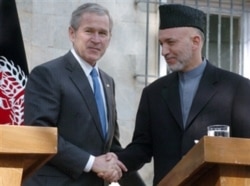 READ
'Strategic Partnership' Seen As Move Toward De Facto Rights For U.S. Bases
Analyst Discusses Increased U.S. Effort
Bush, Karzai Agree On Strategy Against Terror
Former CIA Analyst Says West Misunderstands Al-Qaeda
For regular news and analysis on Afghanistan by e-mail, subscribe to "RFE/RL Afghanistan Report."