Foreign Minister Bernard Kouchner, who is on a three-day visit to Iraq, said after arriving in Baghdad on August 19 that he had come at the invitation of President Jalal Talabani.
Kouchner said he had come to listen, and not to offer any new initiatives.
"I hope that this attitude by a European Union member nation will lead to more interest," he told a news conference on August 19. "And I have come to participate in the return of hope."
"It looks like we're on the verge of a new era of relations with the French, which is a good thing," White House spokesman Tony Snow said.
The visit by Kouchner -- a former UN administrator for Kosovo -- is seen as highly symbolic.
Just four years ago, the then French president, Jacques Chirac, led opposition around the world to the U.S.-led invasion of Iraq, a stance that cast a chill on U.S.-French relations.
The cafeteria in the U.S. House of Representatives famously had the "French" taken out of "French fries," dubbing them "freedom fries" instead.
Sarkozy Sets A New Tone
But in May this year France got a new, pro-U.S. president in the form of Nicolas Sarkozy.
Kouchner's visit to Iraq comes less than two weeks after U.S. President George W. Bush hosted Sarkozy for a lunch at the Bush family's seaside vacation home in Kennebunkport, Maine.
Sarkozy had been in the neighborhood, having vacationed in the nearby state of New Hampshire.
But he went to great lengths to attend the lunch -- flying back to France to attend an important funeral, before returning to the United States for hamburgers and hotdogs with the Bushes.
It was all seen as evidence of a new keenness to improve ties, as expressed by White House spokesman Tony Snow a couple of days before Sarkozy's trip.
"It looks like we're on the verge of a new era of relations with the French, which is a good thing, and the president [Bush] believes in building personal relationships with other heads of state," Snow said. "This [lunch] fits into that pattern."
The White House has also welcomed Kouchner's visit to Iraq.
"This is one more example...of a growing international desire to help Iraq become a stable and secure country," spokesman Gordon Johndroe said.
It's unclear what specific role France -- which has no troops in Iraq -- might play.
Kouchner's Iraqi counterpart, Hoshyar Zebari, had some words of hope. He said he would like the visit to herald an "increased level of engagement by France with Iraq, a level consistent with the activism of its foreign minister."
Iraqi Insurgent Media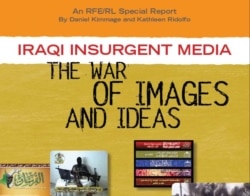 GETTING THE MESSAGE OUT. RFE/RL analysts Daniel Kimmage and Kathleen Ridolfo have produced a book-length study on the media efforts of the insurgency in Iraq and on how global jihadists are exploiting those efforts to spread their destructive message around the world....(more)
DOWNLOAD
(pdf format):
Part One Part Two Part Three Part Four Part Five



THE COMPLETE STORY: RFE/RL's complete coverage of events in Iraq and that country's ongoing transition.