Iraqi, Syrian Leaders Pledge To Work To Stabilize Iraq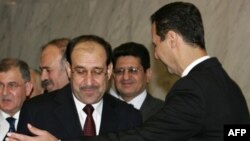 Iraq's Nuri al-Maliki met with Syria's Bashar al-Assad (right) today in Damascus (AFP) August 21, 2007 -- Iraq's prime minister and Syria's president said at a meeting today that both are interested in stabilizing Iraq, despite their differences.
Iraqi Prime Minister Nuri al-Maliki's three-day trip to Syria is part of Baghdad's efforts to seek the help of its neighbors in stemming violence in Iraq.
Al-Maliki stressed that Iraq and Syria have "to weave a network of good relations."
Before starting a closed meeting, Syrian President Bashar al-Assad said Syria is "interested in stabilizing Iraq and improving its situation."
The United States has accused Syria of backing insurgents in Iraq. Ahead of al-Maliki's visit, the White House issued a statement saying it expects him to give Syria "a strong message" about its involvement in the conflict in Iraq.
Al-Maliki was also expected to address the plight of more than 1 million Iraqis who have fled to Syria to escape violence at home.
(AP)


SUBSCRIBE For weekly news and analysis on Iraq by e-mail,
subscribe to "RFE/RL Iraq Report."