Merkel Refuses To Consider Failure In Kosovo Talks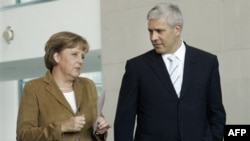 Merkel with Serbian President Boris Tadic earlier this year (file) (AFP) August 21, 2007 -- German Chancellor Angela Merkel has refused to consider the possible failure of talks to resolve Kosovo's final status after discussing the issue with Hungarian Prime Minister Ferenc Gyurcsany today in Budapest.
Merkel said she would only discuss "what we can do to bring about success."
Gyurcsany said resolving Kosovo's status was essential for European security.
International talks have so far achieved no significant progress on resolving the status of the Serbian province, whose ethnic Albanian majority is seeking independence.
(dpa)

SUBSCRIBE
For a regular review of politics, media, and RFE/RL broadcasts in the western Balkans,
subscribe to "RFE/RL Balkan Report."