The mediators held talks in Belgrade with Serbian President Boris Tadic and Prime Minister Vojislav Kostunica, and Foreign Minister Vuk Jeremic.
U.S. envoy Frank Wisner said after the meeting that mediators are working with "absolute determination" toward finding a solution:
"Within the context of the Contact Group [on Kosovo, we plan to] listen, to leave no stone unturned, to try to find a solution that is acceptable to the parties," Wisner said. "And we will endeavor and sustain that course of work in the weeks ahead with absolute determination to deal with every possible option that will lead to a successful outcome: peace in the region and a better future for Serbia and for Kosovo."
Wisner, the EU's Wolfgang Ischinger, and Russia's Aleksandr Botsan-Kharchenko will travel to Pristina tomorrow for meetings with Kosovo's ethnic Albanian leaders.
Kosovo's ethnic Albanian leaders insist on full independence for the province. Belgrade rejects this, and is offering Kosovo wide autonomy within Serbia.
The mediators have 120 days to work out a plan for Kosovo acceptable to all parties.
(Reuters, AP, AFP)
Final Status For Kosovo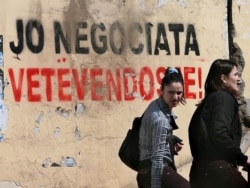 Pro-independence graffiti in Prishtina (epa)

FINALLY STATUS? Sabine Freizer, director of the Crisis Group's Europe Program, told an RFE/RL briefing that deep divisions in the UN Security Council make it uncertain what form Kosovo's future status might take.
LISTEN
Listen to the entire briefing (about 70 minutes):

Real Audio
Windows Media
ARCHIVE
RFE/RL's coverage of
Kosovo
. The website of
RFE/RL's South Slavic and Albanian Language Service
.