Wolfgang Ischinger, the European Union envoy to a three-party team of negotiators, said on August 12 the group is "prepared to endorse any agreement which both parties manage to achieve."
Western policy on Kosovo previously ruled out the partition option, saying it could spark a regional conflict. A division would likely leave under Serbian control the northern section of the province, where about half of Kosovo's 100,000 Serbs live.
Avni Arifi, an adviser to Kosovo Prime Minister Agim Ceku, told RFE/RL's South Slavic and Albanian Languages Service that "partition is not an option for resolving the Kosovo issue."
"Our position is very clear, and we've presented it to the troika," Arifi said, referring to the EU, U.S., and Russian negotiators tasked with resuming talks on Kosovo's final status following the collapse of a UN plan to give the province supervised independence. "Kosovo's independence is not up for discussion. We're not talking about whether Kosovo will be independent, but how to make it so."
Arifi added that the question of Kosovo's territorial integrity is "untouchable" and that the UN independence proposal tabled by Finnish diplomat Marti Ahtisaari "is a document that cannot be reopened."
Kosovo leaders say they expected independence in 2007, and have threatened to declare independence unilaterally. Ninety percent of the province's population are ethnic Albanians, and have sought independence since NATO took control of the territory from Slobodan Milosevic's Serbia eight years ago.
Vuko Antonijevic, who heads Belgrade's coordination on Kosovo issues, told RFE/RL that "everything is possible" -- but stopped short of endorsing a partition.
"Taking into consideration how much divides the two sides, it would seem that something like [partition] is possible," he said. "But I don't think it's acceptable at this moment to talk about any kind of partition. The sovereignty and territorial integrity of Serbia must be preserved. The option of creating two entities within Kosovo, so that Albanians can run their own affairs within their entity, is possible. But Serbia will never accept giving up any territory."
The troika is due to recommend a new proposal for resolving Kosovo's status to the United Nations by December 10.
Moscow And Washington: Toe To Toe
Moscow And Washington: Toe To Toe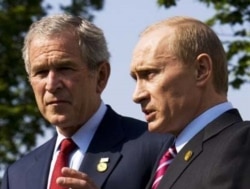 U.S. President George W. Bush (left) and Russian President Vladimir Putin at the G8 summit in Germany on June 7 (AFP)

MOUNTING TENSIONS. Relations between Russia and the United States have grown increasingly tense in recent months as issues like missile-defense, Kosovo's status, and Russia's domestic policies have provoked sharp, public differences. On June 5, U.S. President George W. Bush said democratic reforms in Russia have been "derailed"....(more)
RELATED ARTICLES
Silent Diplomacy Versus Public Criticism
Analysts Say New Arms Race Unlikely
Moscow's Patience With U.S., Allies 'Wearing Thin'
Russian Parliament Accuses U.S. Of Election Meddling
MORE: A special archive of RFE/RL's coverage of U.S.-Russian relations.