Kosovo Negotiator Does Not Rule Out Partition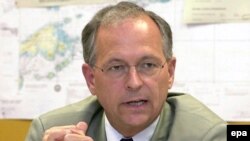 Ischinger (file photo) (epa) August 12, 2007 -- The European Union's envoy to talks on the future status of Kosovo, Wolfgang Ischinger, said today that dividing the territory is an option if Serbs and ethnic Albanians agree to it.
Ischinger, along with U.S. and Russian officials, is trying to negotiate a settlement for Kosovo.
EU policy on Kosovo has previously ruled out partition as a potential spark for regional conflict.
Any partition would be likely to leave the Serbian-dominated north as part of Serbia.
Kosovo's ethnic-Albanian leaders are demanding full independence from Serbia. Belgrade rejects this and is offering broad autonomy.
(Reuters)

SUBSCRIBE
For a regular review of politics, media, and RFE/RL broadcasts in the western Balkans,
subscribe to "RFE/RL Balkan Report."