The troika members -- U.S. envoy Frank Wisner, Russia's top Balkans diplomat Aleksandr Botsan-Kharchenko, and Germany's Wolfgang Ischinger, who represents the EU -- are due to meet first in London on August 9, and then travel to Pristina and Belgrade.
RFE/RL correspondent Ilirjana Bajo on August 3 discussed the possible outcome of the troika's efforts with U.S. envoy Wisner.
RFE/RL: Ambassador Wisner, what are the modalities for the new round of negotiations, and can we say that the countdown of 120 days has already started?
Frank Wisner: The [UN] secretary-general's statement points to the conclusion -- that is, that he expects on or before December 10 a report from the troika. Therefore, we are in business, and I expect to join [Germany's envoy] Ambassador [Wolfgang] Ischinger and my Russian colleague [Aleksandr Botsan-Kharchenko] this week in London, and I expect to travel right on to the region. So the ball is in play.
RFE/RL: So the first step will be the troika visit to the region, but do you plan direct talks between Pristina and Belgrade?
Wisner: Well, I think at this point the three of us need to sit down and think about the weeks ahead. We also need to have an immediate meeting -- we have to have an early meeting -- with the parties in order to ascertain their wishes. So, I do not want to predict how this will end. I don't rule anything out. This is a serious negotiation and we have to cover important ground and see if its possible to identify common points and move the region toward peace and stability. So nothing is ruled out, but again, we are just getting started, and I do not want to predict the format that will be followed.
Intensive Engagement Expected
RFE/RL: Is it correct to say at this point that you do not have a format of negotiations and a detailed agenda?
Wisner: No, except to say, the important point -- which is [that] both parties -- the government in Belgrade and the authorities in Pristina have given us their solemn assurance that they will participate fully in this round of discussion. It will be a serious one. The three of us, the Contact Group behind it, and the secretary-general have all called for an important, intensive engagement during the weeks ahead. And so it is going to be a serious effort and we will look at all possible avenues to finding the points I mentioned to you -- ways to reach peace and stability in the region.
RFE/RL: Although a detailed agenda does not exist at this stage, could you elaborate on the topics you are going to discuss?

Wisner: Both sides to this, Belgrade and Pristina, have their thoughts. They should be given full rights to put their thoughts out on the table. I won't be able to describe what they are until I hear them. But I think the initiative in terms of issues that should be addressed -- the responsibility -- lies very heavily with the parties in the region.
Ahtisaari Plan Still 'Central Building Block'
: You have also participated in the previous round of negotiations, which was led by former Finnish President Martti Ahtisaari. What will be different this time, and why should one expect this new round of talks to be successful? RFE/RL
Wisner: President Ahtisaari's negotiation was enormously important, it was carefully done, his conclusions had the broadest possible support, including from my government. He has defined a path forward of protections for minority communities, he has set up the terms for international supervision. All of these points are there -- they are important. We do not have to go back, and review and revisit. His is the essential building block. Now the parties will have one last chance to see how they want to go forward.
I am certain that the Serbian side will want to focus on the issue of status. I am sure the Kosovo Albanian side will want to address the same question. Then there are questions how Kosovo and Serbia get on in the future and how they fit in to the region. There are many issues they can raise, but I am not -- and let me underscore, not -- suggesting an agenda for this talks. I believe the responsibility lies with the parties and we have been assured that they will contribute in serious manner.

Forum For Final Review
RFE/RL: UN Secretary-General Ban Ki-moon made clear that he expects a report from Contact Group before December 10. Does it mean that Kosovo's status issue will go back to Security Council after that date?
Wisner: We are not at December 10, so you're kind of asking me a very hypothetical question. But as far as the United States is concerned, this is the final round of negotiations. This ought to bring the matter to a conclusion. We should be able at the end of the 120 days to reach a decision on [Kosovo's] final status.
RFE/RL: Keeping in mind the current positions of the two sides, it is unlikely that an agreement will be reached at the end of the 120 days. Have you thought what next, how you would proceed in such a case?
Wisner: I tried to answer that from the point of view of the United States of America. This is the forum for a final review of the Kosovo matter, and then a decision on final status should be taken.
RFE/RL: So after 120 days would you be ready to recognize Kosovo's independence, a solution that is supported by U.S. President George W. Bush, despite Russia's opposition?
Wisner: I think, at this stage, let's get through this 120 days. The position of the United States is clear. The President [Bush] announced it in Tirana, as you've noted. That position is not going to change, we stand firmly beside it. But the task immediately ahead is to get the two parties to lay out their final ideas, proposals, suggestions, and bring this matter to a conclusion before December 10.
Enough Time Has Been Spent
RFE/RL: There are voices, which have created concern among the Kosovo side that partition could be put on the negotiation table. Keeping in mind that it goes against the Contact Group's principles, does the United States plan to oppose it?
Wisner: The Contact Group laid down as a fundamental guiding principle to the negotiations of the future [status] of Kosovo, no division of Kosovo. We have never changed in that view, we think it is a very bad idea and we will continue to oppose it.
RFE/RL: When can we see the solution to the Kosovo status issue? By the end of this year? By the end of next year?
Wisner: I hope by the time that was given to us during the period leading up to December 10. As far as the United States is concerned, at that point we move ahead. Enough time has been spent. We need clarity.

Final Status For Kosovo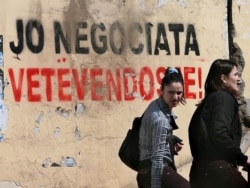 Pro-independence graffiti in Prishtina (epa)

FINALLY STATUS? Sabine Freizer, director of the Crisis Group's Europe Program, told an RFE/RL briefing that deep divisions in the UN Security Council make it uncertain what form Kosovo's future status might take.
LISTEN
Listen to the entire briefing (about 70 minutes):

Real Audio
Windows Media
ARCHIVE
RFE/RL's coverage of
Kosovo
. The website of
RFE/RL's South Slavic and Albanian Language Service
.