Top Envoy Warns Bosnian Serb PM On Kosovo Remarks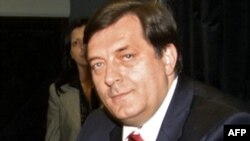 Milorad Dodik said his half of Bosnia could seek to split off if Kosovo becomes independent (file) (AFP) August 22, 2007 -- The top international envoy in Bosnia has warned Bosnian Serb Prime Minister Milorad Dodik against linking the future of Republika Srpska to Kosovo's independence.
High Representative Miroslav Lajcak condemned Dodik's recent suggestion that Republika Srpska, the Serb half of Bosnia, could seek statehood if Kosovo is granted independence.
Lajcak, a Slovak, said the international community "will not tolerate" undermining the constitutional order in Bosnia, as set up under the Dayton peace accords that ended the 1991-1995 Bosnian war.
International talks have so far achieved no significant progress on resolving the status of the Serbian province, whose ethnic Albanian majority is seeking independence.
(AFP)

SUBSCRIBE
For a regular review of politics, media, and RFE/RL broadcasts in the western Balkans,
subscribe to "RFE/RL Balkan Report."