Bush made his remarks during a speech August 22 to U.S. military veterans.
U.S. Senate Majority Leader Harry Reid dismissed Bush's position, saying a change of course in Iraq was "long overdue." He said Bush's strategy was "failing to deliver the political solution necessary for Iraq's stability."
Senator John Kerry, a Vietnam veteran who lost to Bush in the 2004 presidential race, urged Bush to "change course now" in Iraq. He said Bush was oversimplifying the differences with Vietnam and overlooking what he called the "tragic similarities."
Senator and Democratic presidential candidate Barack Obama said there was no military solution to Iraq's problems.
He called for increased diplomacy and humanitarian efforts in the region, as well as a "phased withdrawal" of U.S. forces so that pressure is placed on the Iraqi government to act.
In the same speech, Bush reiterated his support for Iraqi Prime Minister Nuri al-Maliki, one day after Bush cited "frustration" with his government's inability to produce results.
But Bush said it was up to the Iraqi people to decide if al-Maliki remains in his job.
(compiled from agency reports)
Searching For A Way Forward
Searching For A Way Forward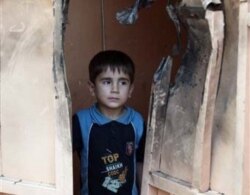 A boy looks out from his Baghdad home (AFP)
LOOKING BEYOND AL-MALIKI: RFE/RL Iraq analyst Kathleen Ridolfo led an RFE/RL briefing about the changing political landscape in Iraq, focusing on efforts to gain the upper hand in the event that the government of Prime Minister Nuri al-Maliki falls.
LISTEN
Listen to the entire briefing (about 70 minutes):

Real Audio
Windows Media
RELATED ARTICLES
Opposition Appears Set On Bringing Down Al-Maliki
Former Premier Pushing New Plan For Reconciliation
Al-Sadr Prepares For Post-Coalition Era
Sunni Ultimatum Rocks Al-Maliki's Position


THE COMPLETE STORY: RFE/RL's complete coverage of events in Iraq and that country's ongoing transition.