Tajikistan's Emomali Rahmon and Afghanistan's Hamid Karzai said the new structure over the Pyanj River, which was financed by the United States, will strengthen trade in the region.
The 700-meter structure straddles the Pyanj River between the ports of Nizhny Pyanj on the Tajik side and Shir Khan Bandar in Afghanistan.
The Tajik head of state, Emomali Rahmon, told those gathered for the ceremony in Nizhny Pyanj that the "bridge of friendship" will first of all "strengthen the old and vital relations of two countries and two peoples."
But he also expressed concern that Tajik and Afghan authorities need to prevent the bridge from facilitating "all kinds of inadmissible activities, such as human, drug, and weapons trafficking."
Karzai said the bridge will not only link "brothers and sisters." He said if proper regulations are established, "without any doubt that bridge will serve for the prosperity of our people."
Afghanistan and Tajikistan have agreed to create free economic zones on both sides of the bridge and ease customs and visa regimes to promote trade, RFE/RL's Tajik Service reported.
The ceremony was also attended by U.S. Secretary of Commerce Carlos Gutierrez, who said the bridge will become the "widest connection" between Tajikistan, Afghanistan, and the rest of the world.
Gutierrez welcomed the opening of the bridge, saying, "it will be opened 24 hours a day with customs and border facilities on both sides, and the capacity to handle 1,000 vehicles every day."
There was only an intermittent ferry service across the river previously.
The United States provided most of the funding and know-how for the $37 million project. Other contributors include Norway, Japan, and the European Union.
Customs infrastructure is expected to become operational later this year.
U.S.-Afghan Relations
STRATEGIC PARTNERS:
Since leading the military campaign to oust the fundamentalist and largely unrecognized Taliban regime from power in 2001, U.S. officials have pledged a long-term interest in Afghan stability.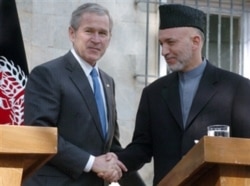 READ
'Strategic Partnership' Seen As Move Toward De Facto Rights For U.S. Bases
Analyst Discusses Increased U.S. Effort
Bush, Karzai Agree On Strategy Against Terror
Former CIA Analyst Says West Misunderstands Al-Qaeda
For regular news and analysis on Afghanistan by e-mail, subscribe to "RFE/RL Afghanistan Report."