U.S. 'Friendly Fire' Strike Kills Four Iraqi Police Officers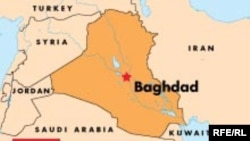 (RFE/RL) August 26, 2007 -- Iraqi officials say a U.S. air strike today in the province of Diyala mistakenly killed four Iraqi police officers and wounded eight others.
Jabbar Yawar, spokesman for the Kurdish peshmerga militia, said the aircraft attacked two police outposts north of Baquba.
The U.S. military has not commented, but it did say that in a separate incident in Samarra, U.S. forces bombed a house after armed men had attacked American soldiers.
Local police claimed five children and two women were among the dead.
(AP, AFP, Reuters)