A district court in the southern Russian city of Vladikavkaz on August 25 ruled that Voice of Beslan -- under its current leadership and with its current membership -- was illegitimate. The court withdrew the group's registration and reregistered it with new leaders and members.
Voice of Beslan, chaired by Ella Kesayeva, split off from Mothers of Beslan, a support group for parents of children killed in the September 2004 massacre. Voice of Beslan has been fiercely critical of Russian authorities for their handling of the siege and has called for an international investigation.
The group has vowed to appeal the court's decision.
In an interview today with RFE/RL's North Caucaus Service, Kesayeva pledged that the group would continue its activities.
"The authorities are not interested in such activism [by the organization]. On the contrary, the authorities would like us to be silent, to stop our activities. But they miscalculated," Kesayeva said.
"We are acting not as members of the organization Voice of Beslan, but as victims. And even if they close down our organization, even if our appeals are rejected, we won't stop our activities and we won't abandon our battle," she said.
Voice of Beslan has criticized what it calls the security services' incompetence and excessive use of force in trying to rescue hostages taken during the three-day school seige. In June, it appealed to the European Court of Human Rights in Strasbourg, claiming that Russian authorities did not do enough to protect civilian lives during the siege.
The group has also called on the European Union and the European Parliament to investigate the Russian authorities' handling of the crisis, and has asked the United States to publish satellite images of the school taken during the siege.
The group plans to hold a rally in Moscow on September 1 to mark the third anniversary of the tragedy, in which more than 330 people died when Chechen rebels seized a school in the North Ossetian town of Beslan.
Coping With The Horror Of Beslan
Coping With The Horror Of Beslan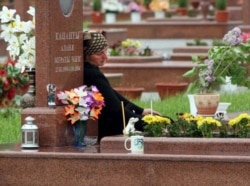 Alla Katsanty reflects on May 17, 2006, at the grave of her daughter, who was killed during the Beslan hostage taking (epa)

SURVIVING THE HORROR: More than 330 people died in the Beslan tragedy, more than half of them children. Before the bloody end of the standoff, victims endured three days of terror with almost no food, water, or medical attention. In the years since, victims, locals, Russia, and the world have all struggled to make sense of one of the most horrific events of modern times.

A video presentation on a UNESCO project to help survivors cope:
Real Player,
Windows Media
.
RELATED ARTICLES
Beslan, Russia, Pay Homage To Victims
Beslan Youth Use Photographs To Tell Their Stories
Beslan Play Rocks Moscow Theaters
An archive of RFE/RL's coverage of Beslan and its aftermath.