The 89 applicants say their rights were violated both during the hostage-taking and the trials that followed.
A Russian court last year sentenced the man said to be the sole surviving hostage taker, Nurpashi Kulayev, to life in prison.
Three police officers charged with negligence for failing to prevent the September 2004 siege were released.
More than 330 people, over half of them children, were killed at Beslan.
The siege began on September 1, 2004, when a group of militants demanding an end to the war in Chechnya took more than 1,000 children and adults hostage in a school in Beslan, in the republic of North Ossetia.
Two days later, special forces started a chaotic rescue operation to end the siege.
Official investigators say Russian security forces acted to save people after the hostage-takers set off a bomb inside the school.
But survivors, victims' relatives, and experts have accused the Russian leadership of covering up for what they call a botched rescue effort by security forces.
An independent report by explosives expert Yury Savelyev alleged that Russian security forces were responsible for two explosions that triggered the storming of the school.
(Interfax)
Coping With The Horror Of Beslan
Coping With The Horror Of Beslan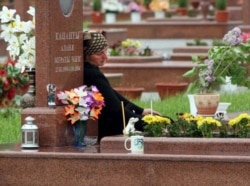 Alla Katsanty reflects on May 17, 2006, at the grave of her daughter, who was killed during the Beslan hostage taking (epa)

SURVIVING THE HORROR: More than 330 people died in the Beslan tragedy, more than half of them children. Before the bloody end of the standoff, victims endured three days of terror with almost no food, water, or medical attention. In the years since, victims, locals, Russia, and the world have all struggled to make sense of one of the most horrific events of modern times.

A video presentation on a UNESCO project to help survivors cope:
Real Player,
Windows Media
.
RELATED ARTICLES
Beslan, Russia, Pay Homage To Victims
Beslan Youth Use Photographs To Tell Their Stories
Beslan Play Rocks Moscow Theaters
An archive of RFE/RL's coverage of Beslan and its aftermath.