More than 330 people, half of them children, were killed when security forces and hostage takers exchanged fire in September 2004.
A small group of victims' relatives spent the night at a cemetery where Beslan victims are buried.
Susanna Dudiyeva, chairwoman of the Beslan Mothers nongovernmental organization, told RFE/RL that locals are not satisfied with the official investigations into hostage taking.
"We consider it our duty to take the investigation of the Beslan tragedy to its logical conclusion," Dudiyeva said. "And we will do this. We are not afraid of anything.... We believe that the entire responsibility lies with them, with the prosecutor-general, with the Federation Council, with the State Duma, with President [Vladimir] Putin, who makes decisions that allow the truth to be concealled -- including the truth about the Beslan tragedy."
Today's commemoration takes place just one day after a court in the North Ossetia capital, Vladikavkaz, released three police officers charged with negligence for failing to prevent the massacre under the terms of a blanket amnesty adopted by the State Duma in September 2006.
The three police officers are the only officials to have faced criminal charges over the siege.
(with material from Interfax)

Investigating The Beslan Tragedy
Investigating The Beslan Tragedy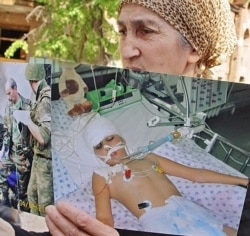 A woman holds a picture of her son, who was injured during the Beslan hostage taking, while she listens on May 16 to the verdict in the only Beslan-related trial to be held (TASS)
WILL THE TRUTH BE KNOWN?
As the second anniversary of the Beslan tragedy neared, Duma Deputy Yury Savelyev, a member of the official investigating committee, issued a 700-page report that veers sharply from the official explanation
...(more)
RELATED ARTICLES
Parliamentary Probe Into Beslan Tragedy Finds Officials At Fault
Basaev Says Beslan Raid Prompted By FSB Sting
Putin's 'Managed' Investigation Into Beslan
Putin Rejects Open Inquiry Into Beslan Tragedy
Troubling Questions Remain About Bloody Beslan Siege

An archive of RFE/RL's coverage of Beslan and its aftermath.