Aleksandr Torshin, deputy head of Russia's upper house of parliament, and also the head of the inquiry, said today that the decision was taken after new revelations about the siege.
According to official investigators, security forces stormed the school after the hostage-takers blew up a bomb inside the school. They argue that most of the 333 victims of the crisis were killed in that blast.
Yury Savelyev, a member of the inquiry and an explosives expert, has said in an alternative report issued on the Internet that two explosions that triggered the storming of the school and caused many of the deaths were in fact rounds of a grenade launcher fired from a building controlled by security forces.
Savelyev accuses the commission of "hiding the truth."
The Prosecutor-General's Office has launched an investigation into Savelyev's claims.
(AP, AFP, Reuters, Itarfax)

Investigating The Beslan Tragedy
Investigating The Beslan Tragedy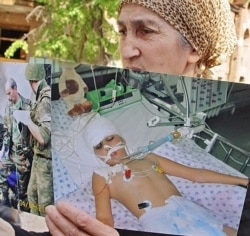 A woman holds a picture of her son, who was injured during the Beslan hostage taking, while she listens on May 16 to the verdict in the only Beslan-related trial to be held (TASS)
WILL THE TRUTH BE KNOWN?
As the second anniversary of the Beslan tragedy neared, Duma Deputy Yury Savelyev, a member of the official investigating committee, issued a 700-page report that veers sharply from the official explanation
...(more)
RELATED ARTICLES
Parliamentary Probe Into Beslan Tragedy Finds Officials At Fault
Basaev Says Beslan Raid Prompted By FSB Sting
Putin's 'Managed' Investigation Into Beslan
Putin Rejects Open Inquiry Into Beslan Tragedy
Troubling Questions Remain About Bloody Beslan Siege

An archive of RFE/RL's coverage of Beslan and its aftermath.