In Beslan, in the Russian republic of North Ossetia, hundreds of parents and children gathered at the school where on September 1, 2004 militants demanding an end to the war in nearby Chechnya took more than 1,000 children and adults hostage.
Mourners laid wreaths, lit candles, and left photographs to honor the dead.
The crisis ended three days later in a chaotic assault by security forces, during which more than 330 people were killed.
Two years later, an official report by a parliamentary commission formed to investigate the event continues to be delayed.
Many people have challenged the official version of events.
Today, Taymuraz Mamsurov, the president of North Ossetia, said that investigators have ignored evidence that there were more hostage takers than the official number given, 32.
Mamsurov, who lost two children in the attack, said that a search should be launched for the missing hostage-takers.
A man who authorities say is the sole surviving hostage-taker has been sentenced to life in prison.
Memorial events marking the anniversary of the Beslan tragedy conclude on September 3.
(compiled from agency reports)
Investigating The Beslan Tragedy
Investigating The Beslan Tragedy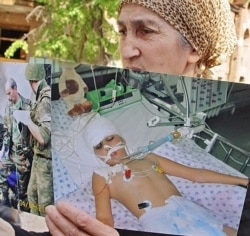 A woman holds a picture of her son, who was injured during the Beslan hostage taking, while she listens on May 16 to the verdict in the only Beslan-related trial to be held (TASS)
WILL THE TRUTH BE KNOWN?
As the second anniversary of the Beslan tragedy neared, Duma Deputy Yury Savelyev, a member of the official investigating committee, issued a 700-page report that veers sharply from the official explanation
...(more)
RELATED ARTICLES
Parliamentary Probe Into Beslan Tragedy Finds Officials At Fault
Basaev Says Beslan Raid Prompted By FSB Sting
Putin's 'Managed' Investigation Into Beslan
Putin Rejects Open Inquiry Into Beslan Tragedy
Troubling Questions Remain About Bloody Beslan Siege

An archive of RFE/RL's coverage of Beslan and its aftermath.