Russia's Top Court Upholds Life Sentence For Beslan Attacker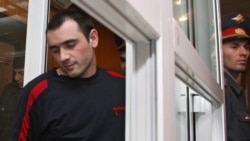 Kulayev in court in Vladikavkaz in May December 27, 2006 -- Russia's highest court has upheld a life sentence for the only militant known to have survived the 2004 terrorist attack on a school in Beslan.
More than 330 people were killed in the attack, most of them children.
In May, Nurpashi Kulayev was convicted by a court in southern Russia.
The Supreme Court on December 26 upheld that verdict, rejecting appeals from his lawyers and relatives of the victims.
The head of a group of victims' relatives called Voice of Beslan, Ella Kesayeva, said on Ekho Moskvy that Kulayev's trial failed properly to investigate the circumstances of the raid and rescue efforts.
Survivors and victims' relatives have accused the Russian leadership of covering up for what they call a botched rescue effort by security forces.
A parliamentary committee report released on December 22 justified actions by security forces in the attack.
(AP)
Investigating The Beslan Tragedy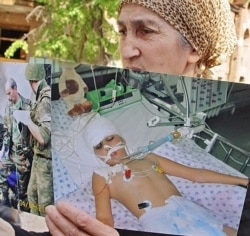 A woman holds a picture of her son, who was injured during the Beslan hostage taking, while she listens on May 16 to the verdict in the only Beslan-related trial to be held (TASS)
WILL THE TRUTH BE KNOWN?
As the second anniversary of the Beslan tragedy neared, Duma Deputy Yury Savelyev, a member of the official investigating committee, issued a 700-page report that veers sharply from the official explanation
...(more)
RELATED ARTICLES
Parliamentary Probe Into Beslan Tragedy Finds Officials At Fault
Basaev Says Beslan Raid Prompted By FSB Sting
Putin's 'Managed' Investigation Into Beslan
Putin Rejects Open Inquiry Into Beslan Tragedy
Troubling Questions Remain About Bloody Beslan Siege

An archive of RFE/RL's coverage of Beslan and its aftermath.