But the crusading journalist's colleagues have been conducting their own probe into the killing -- and accuse Chaika of playing politics instead of solving the crimes.
Sergei Sokolov, the deputy editor of "Novaya gazeta," where Politkovskaya worked, told RFE/RL that "the scenario that Mr. Chaika put forth is just a scenario which has no basis." He accused Russian authorities of politicizing the investigation into the journalist's murder.
"We have a different scenario that we are working on about who ordered this [murder]. We think we still need to investigate this more, and do so professionally. We don't want to turn this into a political event," Sokolov said.
Officers Implicated
Chaika announced on August 27 that 10 people had been arrested in connection with Politkovskaya's murder on October 7, 2006.
Among those accused of organizing and carrying out the killing are a Chechen crime boss, a Federal Security Service (FSB) officer, a police major, and three former police officers.
"Novaya gazeta" has been conducting its own investigation into the murder. Sokolov says the paper's findings supports Chaika's allegations -- to a degree.
"As far as those who have been detained are concerned, we believe that they most likely were involved in this crime," he said.
But there is an aspect of Chaika's theory that Sokolov says is not at all supported by the "Novaya gazeta" investigation -- the allegation that "foreign-based" forces were behind the killing.
Chaika claims the masterminds behind Politkovskaya's assassination were living outside of Russia, and that the murder was part of a plot to discredit President Vladimir Putin and destabilize the country in the run-up to national elections.
'Foreign Enemies'
Sokolov noted that Chaika's comments nearly exactly echoed a statement made by Putin shortly after Politkovskaya's death. At the time, Putin claimed that "people who are hiding from Russian law enforcement have been hatching plans to sacrifice someone and create an anti-Russian wave in the world."
The prosecutor-general didn't name names when referring to the Kremlin's alleged foreign enemies, but he appeared to be referring to one person: Boris Berezovsky, the former Kremlin insider turned fierce Putin critic who is living in exile in London.
Berezovsky called the apparent effort to link him to Politkovskaya's death "sick," adding that it was a "hysterical reaction" to his opposition to Putin.
Politkovskaya -- a frequent critic of Putin whose journalism chronicled the killings, kidnappings, and torture of civilians in Chechnya -- was gunned down in the stairwell of her Moscow apartment building on October 7, 2006.
Her reporting had angered the Kremlin and the Moscow-backed Chechen leadership.
In his interview with RFE/RL, Sokolov declined to say who -- according to the "Novaya gazeta" investigation -- was behind Politkovskaya's murder:
"Unlike lawyers such as Prosecutor-General Chaika and those in the FSB, we don't want to reveal secrets of the investigation and violate the presumption of innocence. This would only harm people's understanding" of the case, he said.
Suspicious Timing

Press-freedom advocates have also said the timing of Chaika's announcement -- three days before Politkovskaya's birthday on August 30 and just over a month before the first anniversary of her murder, October 7 -- is suspicious.

Oleg Panfilov of the Center for Journalism in Extreme Situations says the Kremlin is trying to preempt the inevitable criticism that would have come if the investigation lasted a whole year without yielding results.

"Putin's administration and many officials know that on October 7 in many countries, especially in the West, there will be various events in support of Politkovskaya and events that criticize the poor results of the investigation," he says. "I think that Chaika is trying to preserve Putin's image."

Panfilov adds, however, that Chaika's attempts to score political points by blaming the killing on shadowy foreign-based plotters may have undermined the whole undertaking.

"Like always, this was done stupidly. It was stupid in the first place because unfortunately Chaika's announcement contained a lot of politics and very few legal aspects," Panfilov says.

Wider Conspiracy At Work?

Observers also cast doubt on Chaika's allegations that those behind Politkovskaya's murder were also involved in the killings of deputy Central Bank head Andrei Kozlov last year and U.S. journalist Paul Klebnikov in 2004.

Igor Trunov, a lawyer for one of the suspects in Kozlov's murder, told RFE/RL's North Caucasus Service that Chaika's attempts to connect Kozlov's killing to Politkovskaya's made little sense to him.

"As lawyers who are involved in the case of Kozlov's murder, it seems strange to connect the murders of Politkovskaya and that of the deputy Central Bank head," Trunov says. "We received a lot of material that the prosecutors have gathered and there was nothing indicating a connection."

Chaika said those who carried out Politkovskaya's slaying were part of an organized-crime ring that specialized in contract killings. In an interview with RFE/RL's North Caucasus Service, Dmitry Muratov, the editor in chief of "Novaya gazeta," says hit squads that include members of the security services are not uncommon in Russia, and Politkovskaya was most likely not their only victim.

"Our boys in the security services look at this like it's a business," Muratov says. "They have done this more than once. It isn't like they just started to kill beautiful women for money on October 7. They have long been serving people with epaulettes."

Chaika said the Politkovskaya murder was meticulously planned with two groups keeping her under close surveillance.

Footage from a surveillance camera on the day of Politkovskaya's murder showed the suspected gunman and a woman in her 30s following Politkovskaya through a supermarket. No women, however, were among the 10 people arrested in connection with the case.

Reading Politkovskaya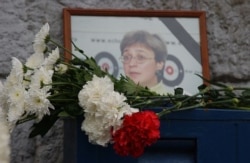 A memorial for Anna Politkovskaya in Moscow shortly after her murder (epa)


'A SMALL CORNER OF HELL': RFE/RL's Russian Service invited a number of prominent Russians to read passages from Anna Politkovskaya's second book on the war in the North Caucausus, "A Small Corner Of Hell: Dispatches From Chechnya" (see transcripts in Russian).The excerpts below are in Russian and are each about five minutes long.
LISTEN
Nikita Belykh, head of the Union of Rightist Forces:
Real Audio Windows Media
Sergei Buntman, political commentator with Ekho Moskvy:
Real Audio Windows Media
Andrei Babitsky, RFE/RL Russian Service correspondent:
Real Audio Windows Media
Vyacheslav Izmailov, "Novaya gazeta" journalist:
Real Audio Windows Media
Marianna Maksimovskaya, host of REN-TV's "Nedelya":
Real Audio Windows Media
Eduard Limonov, head of the National Bolshevik Party:
Real Audio Windows Media
Svetlana Sorokina, television journalist:
Real Audio Windows Media
CHRONOLOGY
The
fighting in Chechnya
has raged, with short breaks, since 1994. It has brought misery, death, and destruction to the North Caucasus republic and to Russia as a whole. View an
annotated timeline
of the conflict
.

ARCHIVE
RFE/RL's complete coverage of Russia's war-torn Republic of Chechnya.