Chaika also suggested that "individuals located outside the Russian Federation" who seek to discredit Russia were ultimately behind Politkovskaya's death.
Chaika announced the arrests in a televised meeting today with President Vladimir Putin.
"As of today, in the criminal case of the murder of journalist Politkovskaya, we have arrested 10 people," Chaika said. "In the near future, they will be charged with committing this grave crime."
At a press conference after his meeting with Putin, Chaika said the suspects included a member of a Moscow criminal group and a migrant from Chechnya. He added that among those arrested were "retired and acting members of the Interior Ministry and the Federal Security Service" and that they "took part in shadowing and gathering information on Politkovskaya."
Chaika said the motive behind the killing was to destabilize and discredit Russia, and suggested that the masterminds of the crime were based outside Russia.
"Concerning the motives for the murder, the investigation's results lead us to the conclusion that only individuals located outside the Russian Federation can have an interest in eliminating Politkovskaya," Chaika said. "This is particularly advantageous for those people and structures who seek the country's destabilization, the change of constitutional order, the creation of a crisis in Russia, the return to the previous administrative system when money and oligarchs decided everything, the discrediting of government leaders, and who seek to provoke external pressure on our country's leadership."
Politkovskaya, a fierce critic of Putin who wrote extensively about human-rights abuses in breakaway Chechnya, was shot dead in the stairwell of her Moscow apartment building on October 7, 2006.
Politkovskaya would have turned 49 years old on August 30. Rallies are planned in Moscow to commemorate her birthday.
Chaika also said there was also evidence that the group that allegedly killed Politkovskaya was also involved in other unsolved murders in Russia.
"During the investigation into this criminal group's activities, we gathered evidence that its members were also involved in the murder of the editor of Forbes magazine's Russian version, Paul Klebnikov, and in the murder of the first deputy chairman of the Russian Federation's Central Bank, [Andrei] Kozlov, and his driver [Aleksandr] Semyonov," Chaika said.
Reading Politkovskaya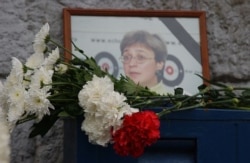 A memorial for Anna Politkovskaya in Moscow shortly after her murder (epa)


'A SMALL CORNER OF HELL': RFE/RL's Russian Service invited a number of prominent Russians to read passages from Anna Politkovskaya's second book on the war in the North Caucausus, "A Small Corner Of Hell: Dispatches From Chechnya" (see transcripts in Russian).The excerpts below are in Russian and are each about five minutes long.
LISTEN
Nikita Belykh, head of the Union of Rightist Forces:
Real Audio Windows Media
Sergei Buntman, political commentator with Ekho Moskvy:
Real Audio Windows Media
Andrei Babitsky, RFE/RL Russian Service correspondent:
Real Audio Windows Media
Vyacheslav Izmailov, "Novaya gazeta" journalist:
Real Audio Windows Media
Marianna Maksimovskaya, host of REN-TV's "Nedelya":
Real Audio Windows Media
Eduard Limonov, head of the National Bolshevik Party:
Real Audio Windows Media
Svetlana Sorokina, television journalist:
Real Audio Windows Media
CHRONOLOGY
The
fighting in Chechnya
has raged, with short breaks, since 1994. It has brought misery, death, and destruction to the North Caucasus republic and to Russia as a whole. View an
annotated timeline
of the conflict
.

ARCHIVE
RFE/RL's complete coverage of Russia's war-torn Republic of Chechnya.