Slain Russian Journalists Remembered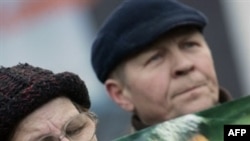 Rally participants honoring Politkovskaya (AFP) MOSCOW, December 17, 2006 -- Russian journalists during a Moscow rally today lit candles and read out the names of more than 200 colleagues who have died violently since the fall of the Soviet Union.
About 250 journalists and supporters attended the event, organized by the independent Russian Union of Journalists. Many participants held photographs of murdered reporters such as Anna Politkovskaya and Paul Klebnikov.

"Who ordered the murder of Anna Politkovskaya?" asked one placard. Politkovskaya, a journalist known for her opposition to the Kremlin, was killed in her apartment building in central Moscow in October.

The demonstrators accused authorities of not doing enough to track down those responsible for attacks on members of the media.
Closely Watched

The rally, held in a central Moscow square under a statue of Russian writer Aleksandr Pushkin, was hemmed in by hundreds of police. Authorities had earlier banned the journalists from marching to their rallying point.

The heavy police presence contrasted to the scene during a massive rally held the same day in Moscow by members of the pro-Kremlin youth group Nashi.

(Reuters, AFP)