Putin's Comments On Politkovskaya Anger Activists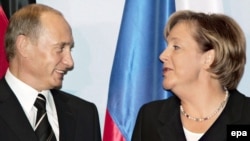 President Vladimir Putin with German Chancellor Angela Merkel in Dresden on October 10 (epa) MOSCOW, October 11, 2006 (RFE/RL) -- Human rights activists and colleagues of slain Russian journalist Anna Politkvoskaya have greeted with anger President Vladimir Putin's comments on her murder.
Speaking during a visit to Germany on October 10, Putin said Politkovskaya's murder four days earlier was a "disgustingly cruel crime" and that her killers should not go unpunished.
But he also said that her "ability to influence political life in Russia was extremely insignificant," and that her killing had caused greater damage to Russia than her writings.
Politkovskaya was strongly critical of the Kremlin and its conduct of the war in Chechnya.
The New-York based Committee to Protect Journalists called Putin's comments "a backhanded attack" that "belies his commitment to justice."
Reporters Without Borders says a rally is scheduled later today at the cathedral of Notre Dame in Paris to pay homage to Politkovskaya.