Politkovskaya, who wrote for the newspaper "Novaya gazeta," was shot and killed in the stairway of her Moscow apartment on October 7, 2006.
Some demonstrators carried posters saying: "Death is the price of truth." Others carried photos of Politkovskaya. Still others recalled other slain journalists, including Larisa Yudina and Dmitry Kholodov.
Grigory Yavlinsky, leader of the liberal Yabloko party, said there is "no political will to investigate Anna Politkovskaya's murder at the present time."
Demonstrators also protested alleged human rights abuses in Chechnya, about which Politkovskaya wrote.
The demonstration ended with participants laying flowers at the door of Politkovskaya's former home.
Police said approximately 300 people attended the demonstration. Other observers said the number was between 400 and 500.
(with material from nterfax, dpa)
Remembering Anna Politkovskaya
Remembering Anna Politkovskaya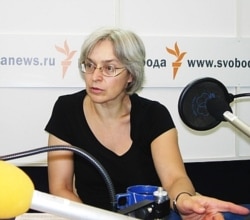 Anna Politkovskaya at RFE/RL in July 2006 (RFE/RL)
A BRAVE VOICE SILENCED. Prominent Russian journalist Anna Politkovskaya was killed on October 7 in her Moscow apartment building. An outspoken critic of the Kremlin, she was best-known for her reporting on the conflict in Chechnya. Former Soviet President Gorbachev called her slaying "a true political homicide, a vendetta."
Chechens Mourn Politkovskaya As 'Last Hope'
Politkovskaya Investigating Chechen Torture At Time Of Death
Two Journalists Die In Contract Killings A Year
SUBSCRIBE
For regular news and analysis on media issues throughout RFE/RL's broadcast area by e-mail,
subscribe to "RFE/RL Media Matters."