"Who can be the president? Who might be the president?" Putin asks rhetorically, as a hip reggae beat plays in the background, before giving his answer: "Me!"
It's a parody of course and the Russian president's response is clearly edited into the video. In reality, Putin has repeatedly pledged not to seek a third term, and to leave the Kremlin when his term expires next year.
What Comes After Putin?
But the youtube.com spoof of Putin reflects growing interest in -- and anxiety about -- Russia's future. Guessing who will be the Kremlin's next occupant has become a favorite parlor game among Kremlin-watchers.
What Putin has been doing in the past two years is creating fences around the way which his successor will go, so he will not be able to depart too far to the right or too far to the left." -- Rahr

Analysts, meanwhile, say there is a question even more important than who comes after Putin -- and that's what comes after Putin. More precisely, will "Putinism," the political and ideological system the president has spent eight years perfecting, survive Putin's departure from office?
Analysts say the Russian leader is doing everything in his power to assure that it does. Alexander Rahr, a Russia expert with the Berlin-based German Council on Foreign Relations, says one of Putin's "major priorities...in installing the right successor" is guaranteeing "a continuation of Putinism" after Russia's March 2008 presidential elections.
"What Putin has been doing in the past two years is creating fences around the way which his successor will go, so he will not be able to depart too far to the right or too far to the left," Rahr said.
What Is Putinism?
Since coming to power in 2000, Putin has implemented a system known alternately as "managed democracy" or "sovereign democracy."
Its essential features are a strong and unaccountable executive, a subservient legislature and judiciary, stage-managed elections with predictable results, and a so-called "power vertical" in which regional and local elites are subordinate to the Kremlin.
Civil society has also been weakened, public liberties restricted, and the media tightly controlled. Putin has also tightened Russia's macroeconomic policy and stabilized the country's once-turbulent finances.
In foreign affairs, Putinism favors a muscular global stance in which Russia is not afraid to use its energy wealth to get its way in the international arena -- particularly with the former Soviet republics.
Putin and his inner circle say such a system is necessary to preserve Russia's sovereignty against the forces of globalization and the spread of Western-style liberalism, which they believe leads to chaos.
Strong Inner Circle
Putin wants his political and ideological legacy to survive, and is working furiously to orchestrate its transition to a new Kremlin leadership.
This means not only choosing the correct presidential successor. It also means making sure the current elite -- Putin's so-called "St. Petersburg team" -- remain in positions of power.
Political authority in Russia is currently concentrated around Putin's cronies from his days as an officer in the KGB. It's a long list that includes two deputy Kremlin chiefs of staff, Igor Sechin and Viktor Ivanov, First Deputy Prime Minister Sergei Ivanov, and Nikolai Patrushev, who heads the Federal Security Service (FSB), the KGB's successor agency.
In addition to holding key state posts, these so-called "siloviki" -- Russian slang for veterans of the security services -- also wield formidable corporate muscle.
Sechin, for example, is chairman of Rosneft, Russia's massive state-run oil company. Sergei Ivanov heads the United Aircraft Building Corporation, Russia's newly formed aircraft industry monopoly. Viktor Ivanov chairs the board of directors of both Almaz-Antei, a state missile-production monopoly, and Aeroflot, the national airline.
A New Politburo
Andrei Ryabov, a political analyst with the Moscow Carnegie Center, says these officials, and others like them, are likely to keep their positions -- and their loyalty to Putinism -- after Putin leaves office.
"The elite, the personnel, will not change after the presidential election," Ryabov says. "We will see the same people. Some of them may be in new roles. These people, of course, come from the current president's team. They are people who are close to him. They share his approach and ideology. And this will lead them to follow the same course."
"There will be, at least in the first one or two years, a collective leadership in Russia, like after Stalin's death, like after Lenin's death." -- Rahr

To keep the next president from straying too far from the tenets of sovereign democracy, Putin is already attempting to instill a form of collective leadership -- which is in some ways similar to an informal version of the old Soviet Politburo.
"There will be, at least in the first one or two years, a collective leadership in Russia, like after Stalin's death, like after Lenin's death," Rahr of the German Council of Foreign Relations says. Putin "will try to install a president and he will try to encircle him [with] a collective leadership. Whether this will function is a different matter," Rahr adds.
Putin, who will be 55 when his presidency ends, is still relatively young. And by releasing shirtless pictures of the president recently, the Kremlin appears to be sending a message that he is robust as well. Most analysts expect Putin to wield considerable influence even after he leaves the Kremlin.
Can Putinism Last?
So is the fix in? Is Putinism poised to endure for generations as Russia's ruling ideology, like Soviet communism before it? Ryabov and other Kremlin watchers say it is a bit early to start building pantheons to Putinism.
"In my opinion, the system will continue for one or two years at the most in its current form. It will have the same priorities, the same verbal style, propagandistic methods that we see now," Ryabov says. "But then, due to the influence of a series of factors and challenges that will arise before the next electoral cycle, it will start to change."
Analysts cite Russia's crumbling infrastructure, energy-dependent economy, vague property laws, and looming demographic crisis as factors that could force the political system to become more flexible -- and possibly more pluralistic.
"The Russian elite right now is not aware that there will be a need for change," Ryabov says. "They are preoccupied with preserving the status quo. But when real challenges appear -- challenges that are only theoretical today -- then the system will undergo serious changes."
Economic Challenges
Putin's power -- and Putinism's appeal -- rests in large part on a Russian economy that is flush with cash from high energy prices. But observers say even a strong economy is not enough to guarantee Putinism's long-term health.
Steven Pifer, a former Russia expert with the U.S. State Department who is now a senior adviser to the Center for Strategic and International Studies in Washington, says the system Putin built may become a victim of its own success.
A significant portion of the Russian population, still jittery from the economic roller-coaster ride of the 1990s, is satisfied with the current state of affairs. Whether that satisfaction will last, Pifer says, is another story.
"The question in my mind is: does that change, perhaps, as the economic circumstances change?" Pifer says. "As more Russians achieve middle-class status, as more Russians become confident in their economic circumstances, do they start to become more politically aware? Do they start to push a little bit more to have a greater political say?"
There is also the risk that a drop in world energy prices or a global recession could shake public confidence in the Russian government. Daniel Treisman, a professor of political science specializing in Russian affairs at the University of California at Los Angeles, says an economic downturn could also endanger the current system.
"If growth were to slow, if personal incomes were not rising at 11 percent a year anymore, then it is possible that there would be more pressure to change course," Treisman says. "And then things could change in various different ways: either toward tightening control, or toward loosening it -- a kind of re-democratization."

Bureaucratic, Generational Threats
Beyond economic challenges, Putinism could also fall victim to bureaucratic factionalism among the Russian elite. Putin has been able to manage such schisms so far. But Treisman says it is unclear whether his successor will be able to do so.
"The other big uncertainty is whether the different groups within the Putin establishment will end up in conflict with one another, and whether Putin, behind the scenes -- or the new president, assuming it's not Putin -- will be able to manage those conflicts as effectively as Putin appears to have done during his time in office," Treisman says.
There is the possibility, for example, that the military will begin to covet the FSB's leading role in politics, or that FSB officials outside of Putin's circle will begin to resent the dominance of the St. Petersburg team. There is also the risk that conflicting economic interests among the ruling elite will put intolerable strain on the system.
And ultimately, generational change among Russia's leadership could create pressure for change in the long run.
Rahr of the German Council on Foreign Relations says Russia-watchers should keep a close eye on what he calls the "new elite" -- the Western-educated children of Russia's current leaders, many of whom live abroad, who will return home to inherit power in five to 10 years
"They have a different view. They are half-Westerners," Rahr says. "They may not be, deep down in their hearts, democrats or liberal thinkers, but they don't want to live in an authoritarian Russia. I think this will be the biggest push for changes toward a more modern and somehow democratic and market-economy system."
Many scholars, after all, say it was the rise of a new generation of leaders like Mikhail Gorbachev that hastened the decline and fall of communism in the late 1980s after seven decades as the Soviet Union's ruling ideology.
Few analysts believe that Putinism, given the challenges it faces, will last so long.
The Post-Soviet Petrostate
The Post-Soviet Petrostate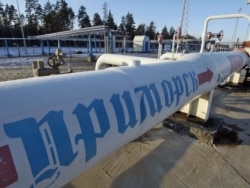 The oil-export terminal at Primorsk, Russia (TASS)


WEALTH AND POWER. At an RFE/RL briefing in Washington on January 24, Freedom House Director of Studies Christopher Walker and RFE/RL regional analyst Daniel Kimmage argued that energy-sector wealth is preventing many former Soviet countries -- Azerbaijan, Kazakhstan, Russia, and Turkmenistan -- from developing strong democratic institutions.
LISTEN
Listen to the entire briefing (about 90 minutes):

Real Audio
Windows Media
RELATED ARTICLES
Russia's Gazprom Looks Ahead To A New Year
Azerbaijan: Coping With The Oil Windfall
Azerbaijan Boom Sparks Fears Of Dutch Disease
Kazakh President Tells West -- We Don't Need Your Advice
Could Turkmen President's Death Lead Instability?